Click here to view full size image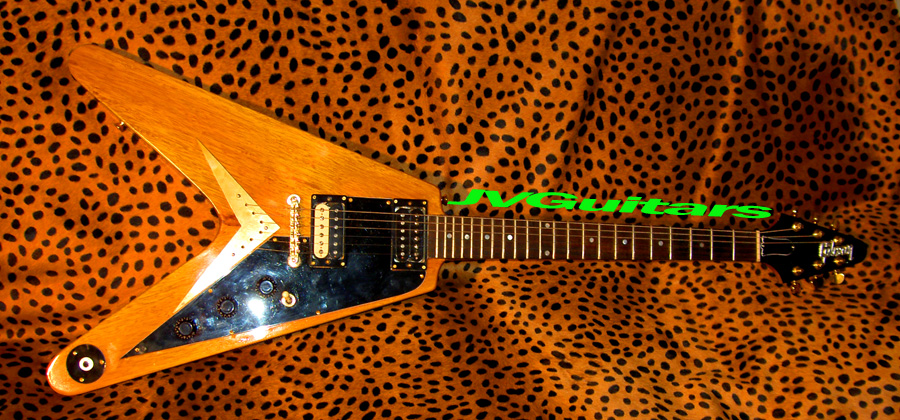 1958 Korina flying V replica 50+ year Old groth Limba Hand built guitar SOLD

We are very pleased to present this cool one of a kind find its from a Collector of Korina V guitars built in the late 80's. Premium Old growth African Limba " KORINA " 100% 50 year old old-stock Vintage wood. ...And the best V around for a REAL Custom Hand Built ALL_Vintage Korina V 1958 Style Replica. We have just the this one in stock now and the white guard Relic one has sold THESE ARE VERY RARE!!!. This example is 100% CUSTOM HAND BUILT REPLICA Using "50 YEAR OLD" GORGEOUS NATURAL OLD-STOCK GENUINE SOLID KORINA WOOD BODY & NECK. BUILT BY A FORMER GIBSON EMPLOYEE LUTHIER GUITAR BUILDER. HAND CRAFTED true to the actual 1958 Korina V blue prints and along side of the luthiers own Genuine 1958 Korina V each one is unique no 2 are exactly the same. Built to standards-specs from His 1958 V.. This example is 100% NITRO-CELLULOSE LACQUER FINISHED just as the finishing was done on the originals! This guitar's finish lacquer has nicely aged now to a golden amber which adds to its vintage vibe. This one is the closest thing I have ever seen to the real thing. This one Came to us with a 1958 Style Gibson LOGO installed.. This is not a Gibson made 58 flying V guitar with a price tag of $$$$$$$$. This guitar has been Pro set up to perfection. This Korina V is an unbelievable ROCK MACHINE's!!!!! Action is effortless and the tone is the absolute BEST, you like me will not want to put this baby down. This guitar IS NOT A Gibson or a REAL 1958 GIBSON or A GIBSON HISTORIC REISSUE! That being said just have a look...set neck construction and its 58 CORRECT NECK JOINT please see pics of those details. PAF Humbuckers by. All Gold Hardware. This V realy does look just like the $ 55,000 real deal. The Gibson Historic Reissue from the Blue Book for guitars 4th edition page #405 (older book of about 4 years now ) lists Manufacturers list price at $10,199.00 for a Historic reissue...and they can be found for about 50% of that. excl+++condition New pic of this Black guard is here! ** place your order now for a 100% correct USA luthier hand built using 50 year old Korina wood.... this choice old stock Korina wood is about to run out, Look at the recent Historic Gibson's being sold...the wood is not nearly as nicely figured or Birdseye or as interesting as this Vintage Old stock Korina... once this one is gone...thats it. Price seen here is for the guitar seen in the pics only. A good used Std Brown Gibson Flying V HSC is from $99-155 depending on availability currently in stock. Note the elusive and rarely even seen Historic 1958 V CASE ... Our's has a real 50's logo on it and is an This case was an available option with the V Guitar purchase only at $429.00...sorry this case was sold: Just like the Originals came with...a real nice touch! SOLD!