Click here to view full size image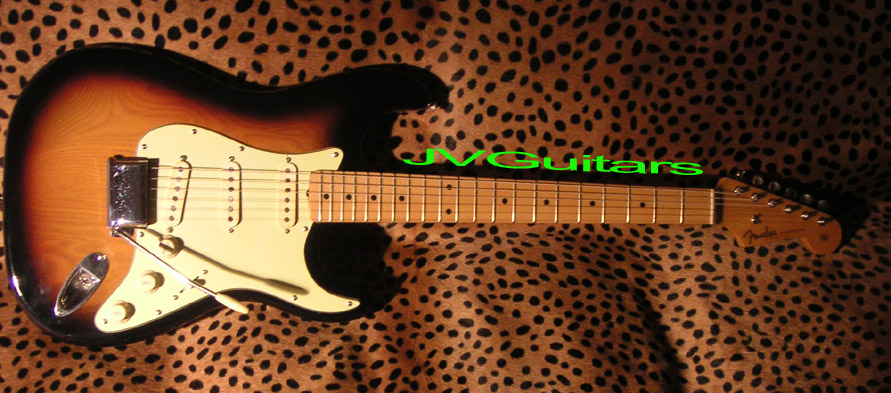 82 ESP 61 Vintage Ash Sunburst Stratocaster w/Orig Tweed HSC...SOLD OUT

SOLD OUT: Just in purchased from a Collector a RARE Vintage ESP Stratocaster and is a pre "Law-Suit" model not many of these arround. This beauty is 100% Custom Shop Quality and was Hand Crafted in Japan in the early 80's and looks like new WoW! This one has not seen any abuse ever its quite clean and its HUGE TONE is simply AMAZING! This Vintage Strat has been upgraded to the famous Australian custom made Kinmin HX Vintage Pickups and these Pickups sound Great!!! super clairity & gutts all at the same time.... HUGE S R V TONE and then some. Just Crank it up and your going for an exciting ride...This is a Professional grade strat in all aspects and it weighes in at a perfict Vintage strat weight of 7.4 lbs. Note in pictures the Vintage Tone Cap from a Genuine vintage 63 Strat for some realistic tone...pots look to be demarzio's...Also note on front of headstock a black dot...that is not on the guitar and is a glitch in the picture only. The Figuered Maple Neck is fairly meaty " V " SHAPED w/large frets for great bends..this one is a true pleasure to play...Tuners are Original and are Authentic looking Vintage Fender replicas very high quality originals and stays perfictly in tune...Neck is arrow straight...fit and finish is the best!...Also RARE Ever seen a case like this?...Its an accurate looking repro Vintage style Tweed hard shell case thats aged looking and is what looks to be a "fotofinish" very cool & looks good. This one Come's complete with its ash tray & termolo arm in the case. This guitar was already upgraded with the Kinnmin Pickups so we decided to go all the way with this accurate 61 replica so we added our own $165 Custom NITRO GREEN GUARD Replica and the Backing Shield as on the old early 60's strats as well as our $43.00 the Relic Back Plate just for realism. This guitar has a Genuine NOS Vintage Fender logo installed. It's apearence is as if it were a real early 60's Vintage strat Closet Classic and is very clean looking no major cracks or dings only very minor hard to see stuff. Rated : A+ Great Tone, Great Player, Looks soooooo good! solid #9+ this is a 20+ year old guitar that looks almost new WoW! Get this befor its gone.