Click here to view full size image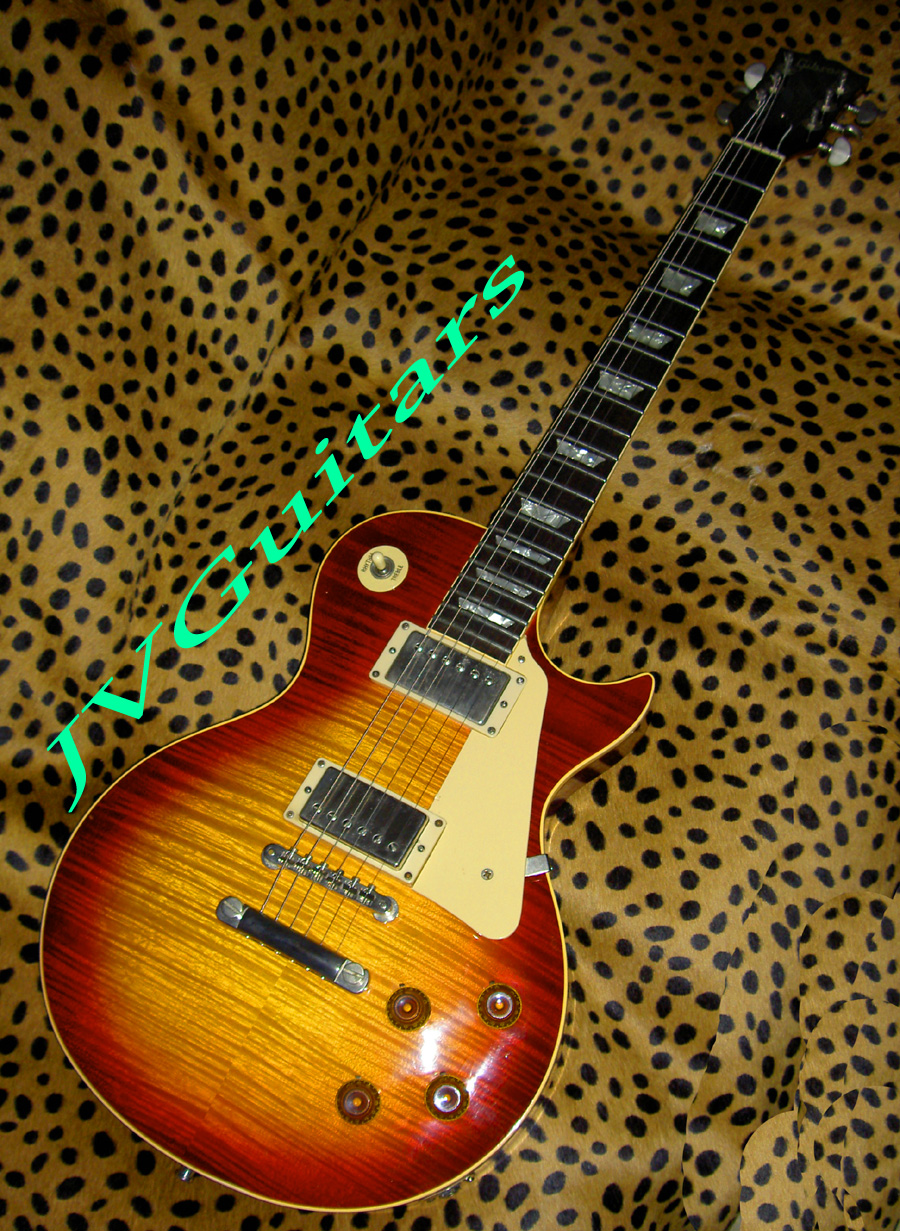 1981 Gibson Les Paul Heritage 80 Standard Flame Top Pre Historic 1959 Reissue RARE

Here we have a Very Rare "NAMM SHOW PRESENTATION" This is a 1981 Gibson Les Paul Standard Heritage 80 Hand Built Example. This particular guitar was presented at the NAMM show by Gibson and was bought by the guitarist for the Kentucky Headhunters (unfortunately, no documentation of that can be provided). Nonetheless, These early 80's are known as the "PRE HISTORIC" 1959 Reissue guitars built by the best of the best Luthiers Gibson had to offer and This one is Amazing. Also rare because its one of the few in " FLAME MAPLE" with the meaty 58/9 AAA Mahogany Neck with a Brazilian Rosewood fretboard and with the Vintage correct Trapazoid MOP Inlays same as 50's Les Pauls used SEE THE PICS..most of these Heritage series guitars are Quilt tops I have had a few of those and they are nice too but this is a Very Nice Flame Top Example and is truly sure to please the true Player-Collector-Investor. This Guitar was presented to a famous celebrity musician who toured with this guitar and played it alot because it plays and SOUNDS AMAZING...this H-80 series has some early PAF recreations built by the now famous Tim Shaw who is known to be among the very best ever PAF recreations ever built bar non again we have had several all with Tim Buckers PAF's. This guitar gets THE TONE in Spades...RICH Harmonics jump off when attacked right its controllable and yet dangerous and when called for raw...It can do Bright real well too with the Bridge Pickup and The Neck Pickup has all the Deep Growl lows...you can ask for. This is a real true Relic naturally Aged looks like a Tom Murphy aged style with some Real Honest wear hear and there. No Fret Buzz or sound from the electronics its Absolutly Recording worthy. One of the nicest Pauls I have ever played it is set up to ROCK and NO funny business ..I may install NOS Vintage Sprague 50's Bumbel bee 22 x 400 Vintage Gibson Tone Caps for the heck of it if so add $175.00 not done yet.. this guitar sounds and plays unbelievable! Many of rock 'n' roll's classic albums were recorded with a 1959 Les Paul Standard (Allman Brothers, Led Zeppelin, etc). Hovland caps have been added to the tone pots (a standard upgrade for these guitars). In 1981, Gibson was still making their guitars in Kalamazoo, MI and this is a fine representation of their work. As you can see in the pictures, it has a BEAUTIFUL flamed maple top. It has some wear on the back, but that's to be expected from a touring guitarist's instrument. Fortunately, it also has the sound and playability that's to be expected from a touring guitarist's instrument! Comes with its Original hardshell case included. Please email me with any questions.