Click here to view full size image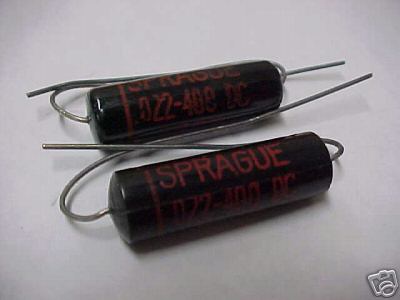 Sprague Black Beauty capacitors

This is a pair of late 50's - early 60's New Old Stock Sprague Black Beauty capacitors. Manufacture rating is .022uf/400volt. These are the red letter DiFilm 160P type (not the lesser yellow letter type. These are NOS with Full length leads, never used. Same as used in 50's Gibson Les Paul guitars. Thise will also sound great in vintage tube amp applications. The 59 Fender Bassman (and other Tweed Fender ) your guitar or amp would be well served using these type capacitor as a substitute for the Astron where the .02/.022uf is called for. NOS...good to go 50's Gibson Humbucker PAF tone caps...get while they last. Priced in sets of 2#.