Click here to view full size image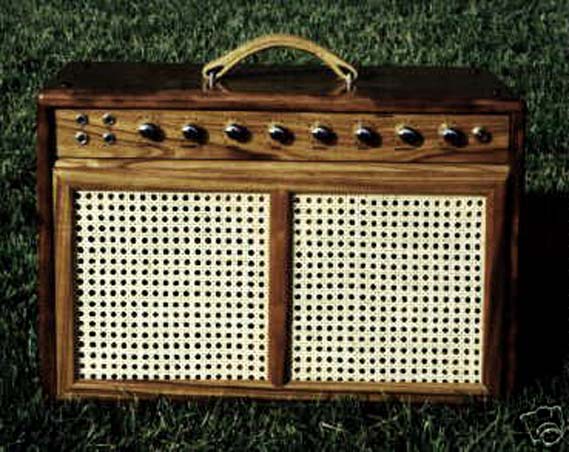 Traynor YSR-1 Amp Exotic Wood Combo Boutique Style Vintage Marshall-Plexi type amp KILLER TONE WoW!!...$829

This Killer Traynor YSR-1 Amp Exotic Cabinet is made of Gorgeous SOLID EXOTIC AFRICAN ROSEWOOD ( Bubinga ) on sides, top, and bottom. Amp face, back, The Speaker face and speaker grill are solid Canary Wood. Hand rubbed polymerized tung oil finish. Loaded with 2 - Celestian Vintage 10" speakers. YSR-1 Head modified with a Torres Dual Stage Master Volume and Pre-CBS Fender mods, Hand Hard wired Tube reverb, foot switchable tremolo (no footswitch) with rate & depth controls. All tube 60Watt, 2- Svetlana EL-34 power tubes. EL-34's rated at 4, 7 & 12 (on a 1-12 scale), so you can tailor the power amp response to your taste. With a Padded Mesa leather handle is a real nice touch. Dome Top chrome knobs . Cream colored custom made vinyl cover included. A really unique and Sweet Boutique Style Vintage Marshall-Plexi type amp . It was biased & built and has only seen living room conditions and little use. If your EL34 type of guy with fine taste in exotic woods as well as true love for KILLER VINTAGE TONE then this is defiantly the Amp for you. . It's a real gorgeous piece of art work and must be seen and heard to be appreciated, The word "Plexi" has been used in reference to this amp's history and tone generated , Here is a link below that can give you more info & reviews on the origin of the head that this cool killer players amp is built from.. http://www.informatik.uni-bremen.de/~dace/vb/models.html#customreverbysr-1 The Amp Weighs 61 pounds.