Click here to view full size image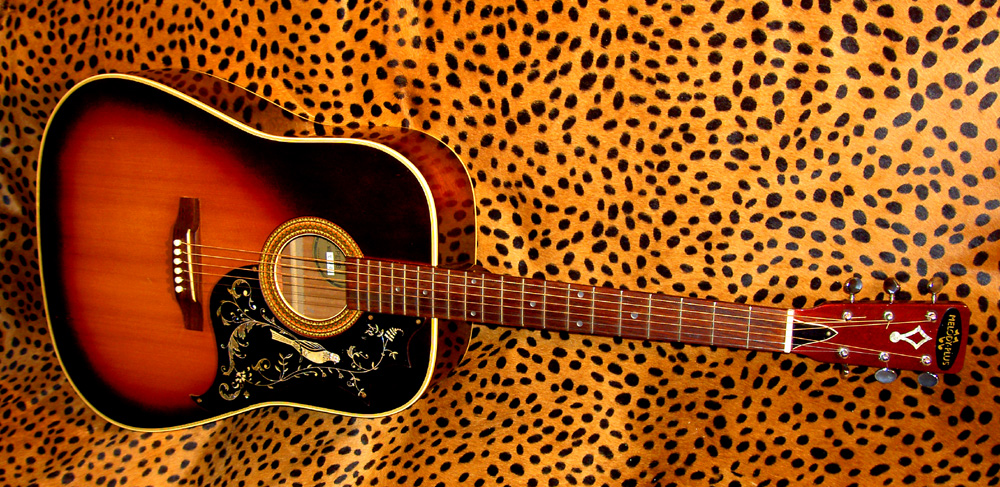 Japanese Quality Dove style Acoustic Melody Plus SUPERB

Here we have a VERY WELL MADE 1978 Vintage Japanese Quality Replica of G!b$@n Dove Acoustic guitar. This is a "SUPERB" top of the line model its Premium woods used in its construction along with very good workmanship see the bindings and the detail wow...and has now over the past 28 years has wonderfully aged into a very nice vintage guitar in its own right. The Vintage aged spruce top is of a high quality on often seen today with a woderful aged finish, also see the sides back & neck all made of premium grade mahogany WoW! The finish is SUNBURST and was done by a master no doubt I compair this very favorably with any G!b$@n for its fit & finish and sound! Believed to be from the same factory as the Aria and a few others exported to St. Lousi music in the 70's...this example is in very good - excellent original condition rated 8.5++/10 Quite a clean example. The frets are in good condition the neck is straight and tuners work well all and all a very enjoyable player with a wonderful rich tone. A Gig bag or case is optional and is available. Dont be fooled by the low price under $400 this guitar would cost over $1200 today out of Japan! Thie is a Bargain find get her before shes gone.