Click here to view full size image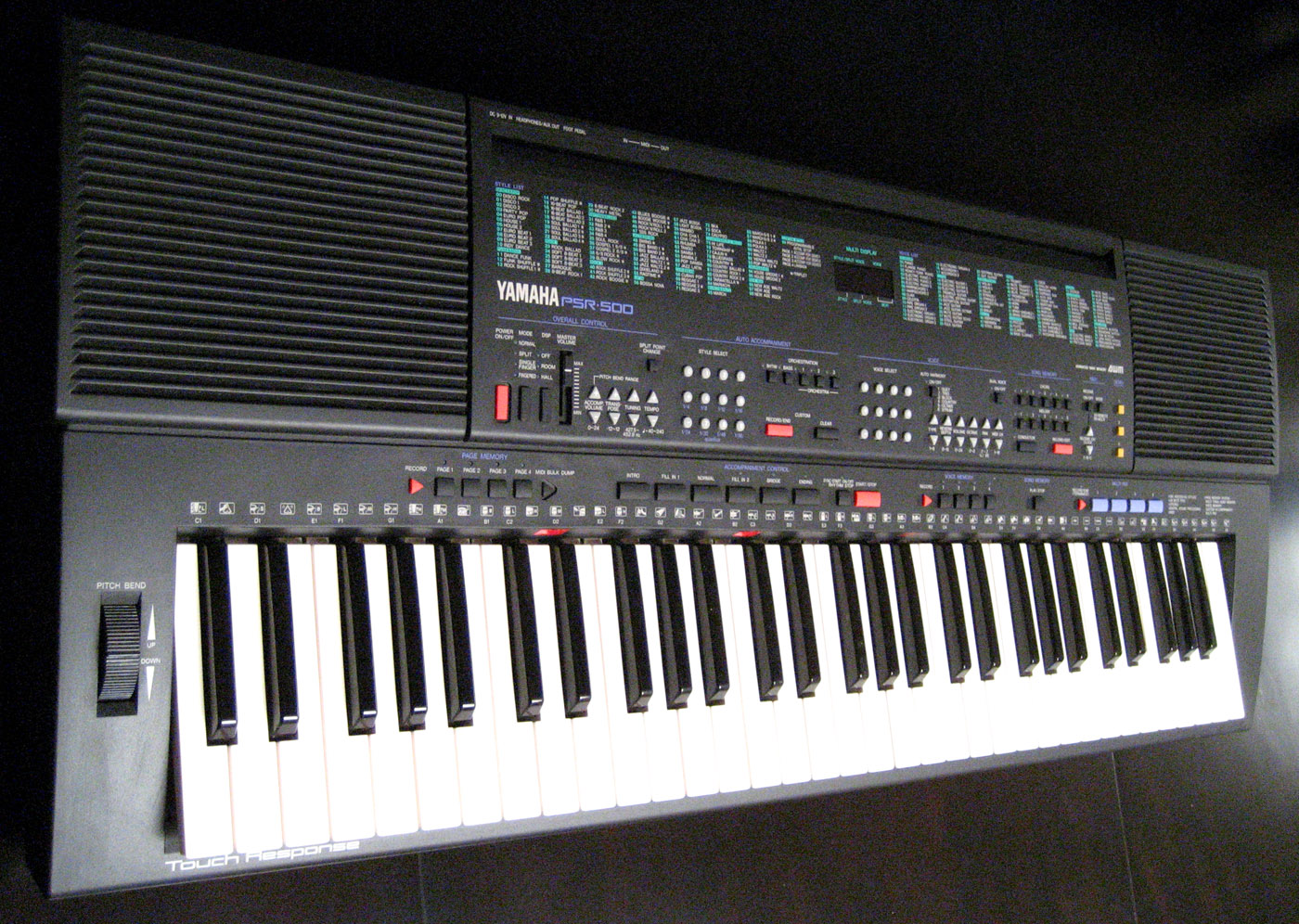 Yamaha Synthesizer Pro Psr500 ....$459

OUR Yamaha HAS SEEN LITTLE USE AND IS IN 9/10 CONDITION NEAR MINT MUST SEE AND HEAR! ANY QUESTIONS? PLEASE ASK Yamaha PSR-500 Synthesizer Specifications Type: Synth/ keyboard/ Synthesis Type: Digital Accoustic simulation Polyphony: Max: 28 Typical in use: 16 Multi-timbral (number of parts): 28 Controllers : Sustain Pedal Effects : Number of FX units : not sure Number of different effects : not sure Drum Section : Number of Drum Kits : 1 Number of Drum sounds : 61 Keyboard : Number of Keys : 61 Can send on can recieve 16 simultaneous MIDI channels Responds to : velocity, Sounds can be split by : keyboard Memory : Patches : 100 Performances : 4 Inputs and Outputs : Number of Audio Outs (excluding Phones) : Just Phones Number of Audio Ins : 0 Number of MIDI Outs (excluding Thru) : 1 Number of MIDI Ins : 1 Sequencer Memory : Number of Notes : No sure, but a lot Number of Patterns : 4 Number of songs : 4 Cool features : 4 Multi pads, one-touch memory playback slots Here are a few reviews of this Keyboard. Yamaha PSR-500 Summary Similar Products Yamaha DTXplorer Electronic Drum Set @ Musician's Friend Yamaha MM6 Music Synthesizer Workstation @ Musician's Friend Yamaha YDP213 88-Key Digital Piano with Bench @ Musician's Friend Manufacturer URL http://www.yamaha.com/ Ease of Use 8.9 (10 responses) Features 7.5 (11 responses) Expressiveness/Sounds 6.9 (11 responses) Reliability 9.1 (10 responses) Customer Support 7.0 (3 responses) Overall Rating 8.8 (10 responses) Submit a review for this product! Page: 1 2 (Show 10 | 25 | 50 | 100 reviews per page) Showing 1 - 10 of 11 reviews Advertisement Product: Yamaha PSR-500 Price Paid: 430 (#) Submitted 10/07/2005 at 06:05am by Tim Constable Email: timothytitusgmail dot com Ease of Use : 10 I've used one semi-professionally since 1993. I still rate it as one of the best ergonomically, particularly the accomp.control section. I think more recently Yamaha have tried too far to 'improve' on the controls and layout. The PSR-500 manual set a standard I try to emulate whenever writing instructions. Features : 9 The keyboard has always had a good feel, but with heavy use I've had to replace some of the rubber contact mats (the machine is as well designed inside, as out!). For its time, the range of facilities was breath-taking. I'm a songwriter, and worked out how to use the user programmable (99) accomp. as a 33-bar 16-track sequencer! Careful use of the sections can give some quite sophisticated arrangements - I even managed a song with 'verse' time sig. 21/16 and 'chorus' time sig. 18/16!! The only downside is that they don't transmit over MIDI. Expressiveness/Sounds : 8 Any keyboard has some sounds regarded unuseable - personal taste determines which! Most of PSR500 sounds can be used for something. My current main keyboard is an S2turbo, and combining the S2 strings with the PSR 'stereo' strings is great! The PSR percussion doesn't sound out of place along side the more contemporary k'board. I use a Doepfer 88 note piano controller; some months ago when the PSR500 keys started playing up, I experimented, and ending up literally chopping off the keyboard part!! I now have a module with all the electronics, controls and speakers, which I play with 88 notes for small 'gigs', yet fits between the Doepfer and the S2 so I can use all the sounds and rhythms! A Sawn-off PSR!! Reliability : 10 My PSRs have been VERY heavily used (I replaced my original about 6 years ago as it was cheap and save a maintenance job). The keyboard rubbers are the only parts to have worn out (I'm fairly heavy handed).As well as much songwriting, I played in 2 electric ceildh bands, praise and worship music all over UK, and I took it to the Caribbean for three months. Backup, what's that?!? Customer Support : 8 Through a local dealer I ordered the keyboard rubbers to fit myself. They arrived in days, no problem. Overall Rating : 10 I have much songwriting work in PSR500 dump file format. I know of no easy way to convert it, so I would have to replace it - all the MIDI data is in there somewhere, surely there's a way? I shopped around very carefully before getting my first PSR500. It well exceeded my expectations. I've never seen or played another k'board and wished I'd bought it instead. I regard the PSR500 with great fondness (despite taking a saw to it!!) and still rate it as one of the great keyboards!