Click here to view full size image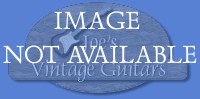 Dating Orville Japanese Guitars

Named after the founding father of Gibson guitars, Orville H. Gibson, these fully-authorized Japanese guitars came into existence through partnerships between Gibson USA and various Japanese manufacturers and dealers (such as Aria, Matsumoku and Yamano Music) that extend back into the 1970s. It wasn't until 1986 when Yamano Gakki took over the distribution of Gibson (and Korean-made Epiphone) guitars in Japan, and later in 1988, decided to expand their lineup of guitar models, that things really got rolling for the Orville and Orville by Gibson brands. Yamano Gakki decided to go with a different name for this expanded line of guitars, that were designed in the exact form of the most valuable and sought-after classic Gibson guitars. It was decided upon to use "Orville" as the new brand name, dedicating the brand to the founding father. As it was decided that some of these guitars would be equipped with Japanese-made pickups and some with USA-made pickups, they decided to include the post-script "by Gibson" for the models that had pickups of American origin. All "Orville" guitars were equipped with Japanese replica PAF pickups, while the "Orville by Gibson" guitars were usually equipped with authentic Gibson USA PAF '57 Classics, and sometimes the original Bill Lawrence HB-R/HB-L or Gibson 490s. Other than the difference in headstock logo and pickups, there are no other hidden or outward differences that I am aware of. Many collector friends have said that they think the Orville by Gibsons are overall better guitars and while this may be so, many collectors have disagreed with this notion. There were many high-end and mid-range models of these guitars under both logos; I think mainly that the model number and original price dictated quality, not particularly the logo. While somewhat confusing, you can determine where your Orville or Orville by Gibson guitar was made, the year it was made, and even the month it was made, by looking at the back of the headstock. There were 5 different methods used to date Orville and Orville by Gibson guitars and two factories involved with building them, so We have developed the simple chart below to assist you... *F = Factory: G, J & K beginning the serial numbers denote that is was made by the Terada factory: the "G" ink stamp means the guitar should have Gibson USA pickups, and "J" for Japanese pickups. K stands for Kuramae, Yamano's wholesales division. No letter beginning the serial number = FujiGen Factory-built. *Y = Production Year *M = Production Month *P = Production Number Mfg. Years Serial # Example Making Sense... Notes... 1988-1989 S/N Type 1 FYYPPPP J884016 Made by Terada factory in 1988, production # 4016. *The "J" in this model # denotes the use of Japanese pickups. 1989-1998 S/N Type 2 FYMMPPP 105437 Made by FujiGen factory in May of 1991, production # 437. 1989-1993 S/N Type 3 F YYPPPP K 026154 Made by Terada factory in 1992, production # 6154. *** The serial numbers were ink-stamped onto silver stickers attached to the backs of the headstocks. If you see no serial number on your Orville, the sticker was likely removed. 1989-1998 '57 & '59 Les Paul Reissues and the '61 SG Reissue S/N Type 4 FY MPPP G3 07415 Made by Terada factory in July of 1993, production # 415. There is a space between the year and the month/production #. 1989-1998 '57 & '59 Les Paul Reissues and the '61 SG Reissue S/N Type 5 FY PPPP G2 5478 Made by Terada factory in 1992, production # 5478. There is a space between the year and the month/production #.