Click here to view full size image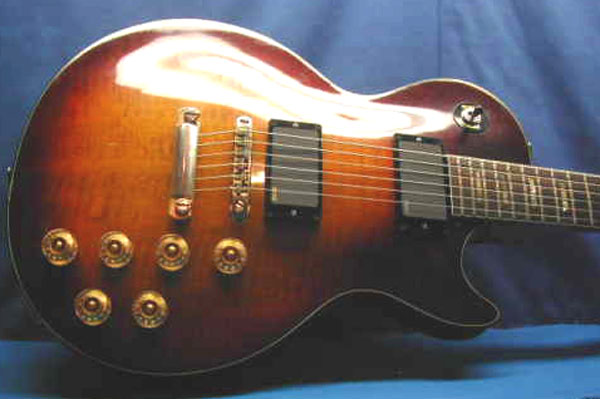 77 Electra LES PAUL Violin Burst EMG loaded Upgrade made in Japan

Ohhhh Ya! Here we have for your serious consideration is real sweet find and a great deal....this is a Gorgeous Violin SunBurst finished Japanese High Quality Les Paul style guitar from the talented and highly skilled Luthiers at Matsumoku "ELECTRA" JAPAN this example was made back in 1977 WoW!...This is the Electra X350 MPC guitar, Serial # 18522 this 32 year old Vintage les Paul started out life as an X350 MPC guitar these were originally made with the capabilities to run Electra's MPC modules... forget about all that MPC business, thats has ALL been removed instead and NOW it has ALL been professionaly upgraded to PROFESSIONAL EMG specifications. Due to the EMG pickup upgrade the following modifications have been made to this guitar, Only two (2) knobs are now needed to function this guitar they are the knobs closest to the pickups/bridge/strings and they control: Knob #1:=Master Volume and, Knob #2:=Tone/EQ Pickup configuration is: EMG-85 = BRIDGE POSITION (Gold EMG logo) EMG-81 = NECK POSITION (Silver EMG logo) This SUPER EMG combination AMAZING for recording and is tried & true and is truly an amazing upgrade to this High Quality Les Paul guitar. This guitar is so close to the true vintage sound of the early Ole School Les Paul, that it's scary. But... it does have it's own voice. The neck is Sweet and versitle,great for jazzy style, its perfect! yet crank it and it will scream like Gary Moore's 57 Paul. The bridge can hurt you with it's crisp highs, and present mids, it too is really versital. (The sustain of this guitar is nothing short of a beast its INCREDIBLE!) Think early Santana! Through a Fender Deluxe Tube amp, Oh my...it's very warm, with a slight adjustment it becomes cutting, or bright, very ballsy blues & rock tones KILL really whatever you want and through a Digitech RP-3 we tested, it's all that, and a hole lot more!...This guitar has the correct 18 degree ofset to the neck headstock like a vintage Les Paul,this has the original Brass nut, frets are original in very good - excellent condition and have been recently dressed and are Gibson correct size the guitar plays very well all the way up the fretboard with good intonation, and stays in tune...Nicely aged Original Tuners & with gold hardware, The fretboard is particularly nice!!!.. with Premium dark Rosewood and is likely Brazilian Rosewood with top of the line abalony inlays to set this all off...All these apointments are a hugh upgrade price ticked at G!b$0n, This neck is a Nice & MEATY C shape profile and is thicker than most average Japanese Les Pauls.The body top is a Beautiful Premium Figured - Flame Maple with a masterfully applied Violin Finish and has aged to resemble a real 50's Les Paul with its natural ageing over the past 32 years and is a real vintage instrament in its own right. Body back is a nice 2-piece Mahogany. Bindings are really nice and are really beautiful tortishell = sweet! This guitar is JVG RATED in overall Very - good to excellent used vintage players condition a solid 8 /10...cosmetics top and front are prety clean and shows very well with minor dings or scuffs, the back of neck is prety clean, the body has many chips & dings that we have "touched up" using Gibson's correct color touch up pen "lacquer" to really make them blend and overall looks alot better now...ha its the back = don't worry its vintage and won't break the bank either...All and all this is one SUPER well built and Beautiful looking - sounding - playing Les Paul... This is for the intermediate to professional player you will be able to get amazing sounds from this player... Better pics soon to come. Any Questions? email us: gr8bids@comcast.net ELECTRA BRAND INFO: Electra guitars were imported from Japan by the Saint Louis Music (SLM) of Saint Louis, Missouri from 1971 to 1984 (most MPC models were made by Matsumoku of Matsumoku , Japan) . Matsumoku has made many popular guitar brands over the years including; Aria, Westbury, Westone, Epiphone, Vantage & Vox to name but a few. In the 70's young Peter Frampton was a very strong endorser of the Electra guitars along with notable Lesley West and other greats... these guitars are the real deal and are not toys...