Click here to view full size image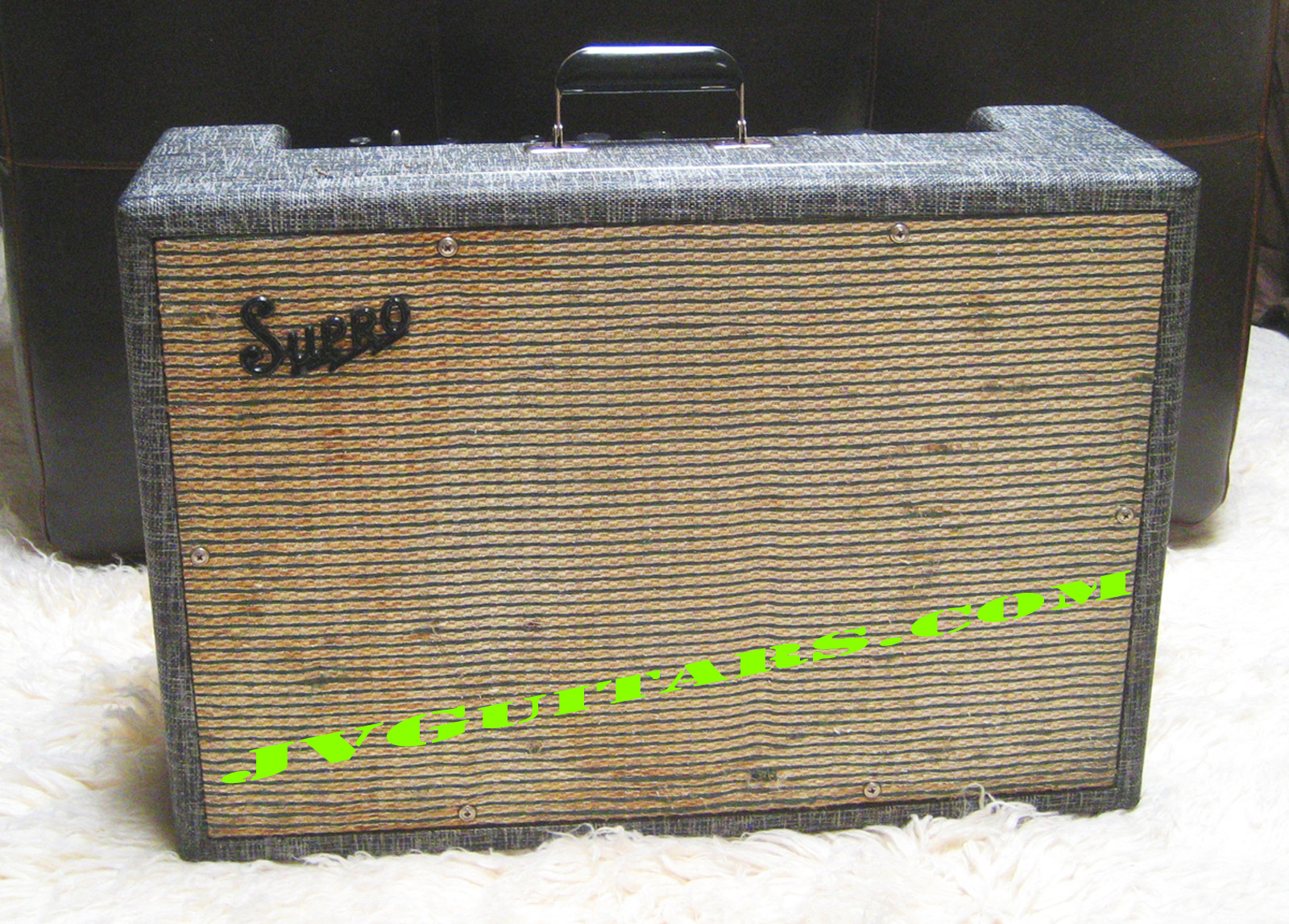 1962-63 Supro 1624T Valco USA Amplifier Historically know to be what Jimmy Page of Led Zepland himself used k in the day to get his tone to record album.... WoW classic ROCK tone be it Strat -Tele o

Supro mode 1624T Dual Tone amp. This one has black and white tolex and no panel in the front so that dates this amp to the 1962-63 year which is a very good year. Many say that this is the model Supro Amp that Jimmy Page used for the first two Zeppelin albums. I have read that Jimmy had buy passed the amps tremolo circuit and this modd in fact adds that additional circuits power and tone to the other making this model amp the raging tone freak of nature they can truly be. I under its a non permanent mod that's EZ to do and EZ to reverse... I am seriously thinking it over and may have it done.. not by just anyone but we have used Dan Torres for years to do our amp maintenance work.. he in the day use to also work on Jimi Hendrix's amp here in the bay area for one... he's getting up there in age now but as I understand it he's still got it! Anyway hat is just a thought at this point. Cosmetically not to bad at all actually beautiful in a very vintage cool real relic vibe if you will. The grill cloth is a little wear hear and their,there are some minor scuffs on the tolex, but absolutely no wood showing,some very minor pitting on the control panel and the lettering as most any 50 year old amps that are plaid would have. The knobs are all there and all original.The speaker has been replaced with a nice sounding Gurian alnico. ( I will likely be buying an original correct vintage Supro "Jensen" alnico speaker in time... The power cord has been upgraded to a three prong for safety's sake. A cap job was performed about 10 years ago,so no nasty hum,just great tone!No scratchy pots or intermittent jacks.Everything works just as it should. Both channels sound great,and very different from each other,and the tremolo sounds great,too. Tubes as follows:RCA 5Y3,RCA 6973(2),and Sovtek 12AX7(3) for which I will soon replace with 3 matched NOS USA 12ax7's SORRY this old girl has SOLD! BUT NO WORRIES ...WE have another Supro 1624T its identical ONLY its SUPER CLEAN!!!! it was kept in closet 30 years here in California with its original Amp Cover on it keeping it in top Vintage Supro Amp collector's condition all these years!.... its BADD to the bone... we also have a few other Vintage 1960s Supro's in stock, a Thunderbolt, Corsica & vobraverb all in top condition... SO YES WE HAVE A Supro 1624T available for purchase today.