Click here to view full size image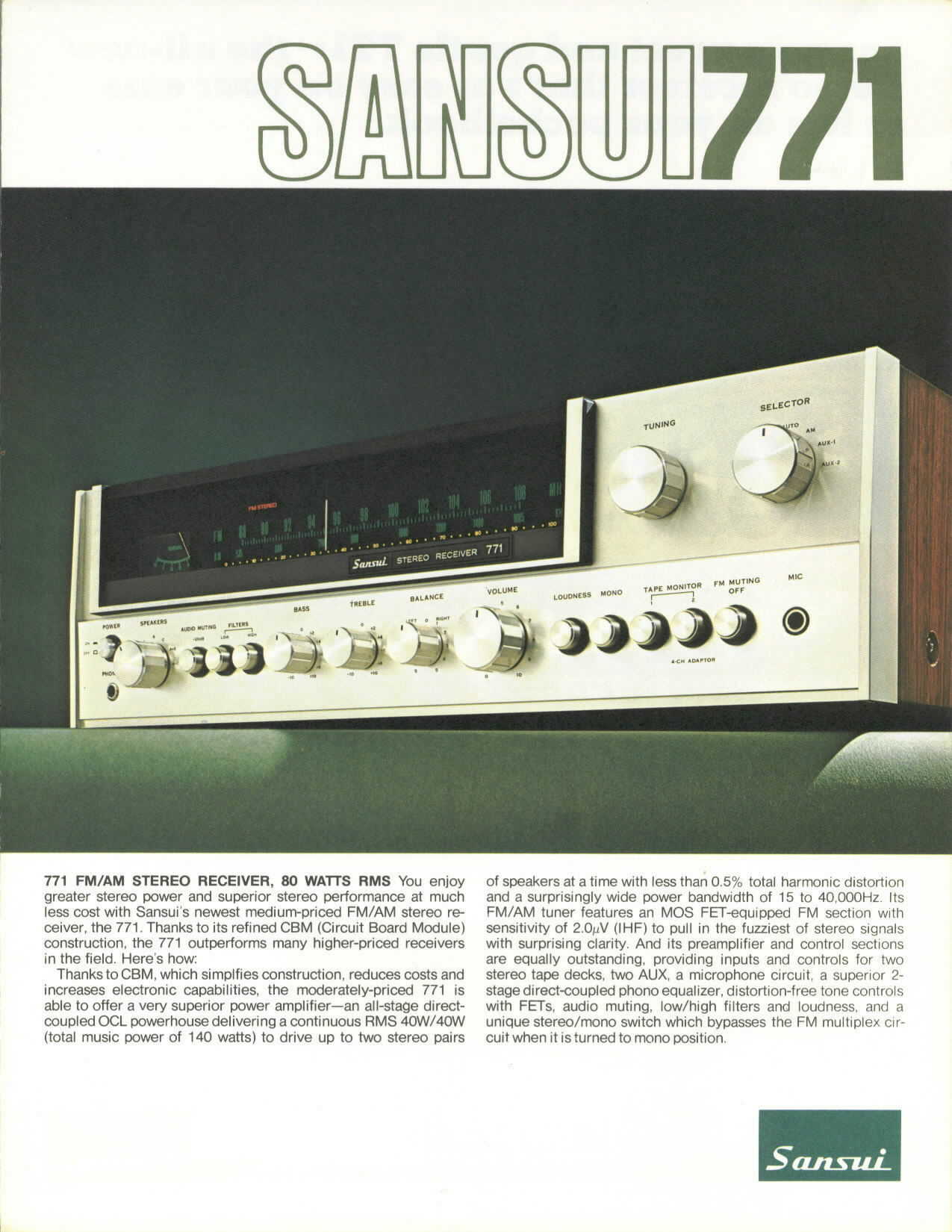 1974 Sansui 771 Stereo Receiver 40-45 watts RMS Per channel warm tube like sound MIJ NicE!......$199.00

OK... this is not exactly one of our most powerful in your face 120 watt receivers I agree but what this unit does it does VERY WELL..... its fidelity is beautifully well balanced and its tone is warm with rich bass & highs .. I play threw my 1975 Sansui 3000's and this amp sounds wonderful and high quality I do not hear in today's plastic component world... I do believe that their rating of 40 watts RMS per Chanel may be a bit low because this baby has excellent power and is tone wise articulate and complex with very little discernible distortion is very low... I have a fond place for this unit as the 771 is my first receiver I had of quality... back in 1972 the year I graduated high school at 16 I bought one of these used then for about $150 from a friend that came back from Viet Nam war with a few receivers... this was one..... The SANSUI 771 Stereo Receiver 89,900yen(around the 1972 time) Description   FM / AM-stereo receiver which summarized the pre-main and the tuner to one taking advantage of the technology of an SANSUI, and experience. This unit was previously serviced and is in very good condition... all functions worling as it should be with no issues and ready to serve another 35+ years... here is some tech info on this particular 771 design you may want to know other than this thing has good power, great bass & high response , tuner pulls in stations easily and has been calibrated, both channels are equal in power and full wattage with no known issues. SPECS>>>>>>>>>>>>>>>>>>........... Each part is examined and it has composition collected to the printed circuit board, a main-amplifier part, a tone control part, and a tuner part, of three sheets. Especially the control part that is an operation fraction has banished poor contact's etc. malfunction by the solid construction as for which picking attached volumes and switchpoints to the printed circuit board directly. Moreover, also in each circuitry, IC-ization is measured as much as possible, and the robustness is improved. The power amplifier part has adopted the whole page hardwired-connection pure complimentary scheme. The coupling capacitor of interstage was removed, by supplying ±2 power source, a distortion harmful from super-low-pass one to a super-high region was suppressed, and the stable operation has been obtained. The equalizer amplifier has adopted the two-step hardwired-connection NF type with which a gentle property is acquired. Moreover, a maximum permissible input is given greatly enough and the large record of a dynamic range is also supported. RIAA deflection also selects a high-precision element carefully and rectifies it correctly. The mic circuitry is carried and a high-impedance type microphone can be used. If a mic plug is inserted in a jack, the mic amplifier will operate automatically and it will orientate in the center of a speaker. The tone control has adopted NF type which uses low-noise FET. A high region and low-pass one can carry out variable to ten steps by a click stop formula, respectively. What combined the relay and the electronic circuitry is adopted as a protection network, and it serves also as the pop noise preventing at the time of power activation. Aluminum die-casting is adopted as the frame of a tuning organization. A large-sized fly wheel, a back-tension spring scheme, FM tick mark of 250kHz regular intervals which gave tension to dial thread, etc. can be tuned in to a smooth much more. The dual gate MOS FET and a precision 4-unit variable condenser are adopted as FM front end. Moreover, a double-tuned circuit etc. is combined and little distorted stable reception is enabled. In the FM IF section, few good distorted properties have been acquired with the stream composition of a six-element ceramics filter or 2 steps of differential-amplifications 2ICs. And the customer specific IC with high stability is adopted as the MPX section which separates and restores to FM signal at right and left. AM tuner part carries a two-element ceramics filter in the IF section. Two circuitries of tapes monitor circuitries other than a mic are carried, and the tapes monitor 2 can use it also with four channel adapters. Moreover, the DIN termination is also carried. Three speaker outputs are carried and the using by A/B/C/A+B/A+C is possible for them. a motor -- the low filter which cuts the run bull generated on super-low-pass one, such as a grounder, and the high filter which cuts the tape hiss of the jarring record and tapes which happen in a high region are carried. The audio muting switch is carried, and if it turns ON, -20dB will be decreased. Low loud sound is reinforced at the time of a small sound volume, and the loudness switchpoint which adjusts the balance of sound is carried. The Stereo-Mono changeover switch is carried. FM muting switch is built in and an inter-office noise peculiar to jarring FM is intercepted. Moreover, it is also possible to select the weak office of a radio wave by switching of a switchpoint. The standby-power-supply-system plug socket of AC is carried two circuitries. Two large-sized grounding terminals are carried.