Click here to view full size image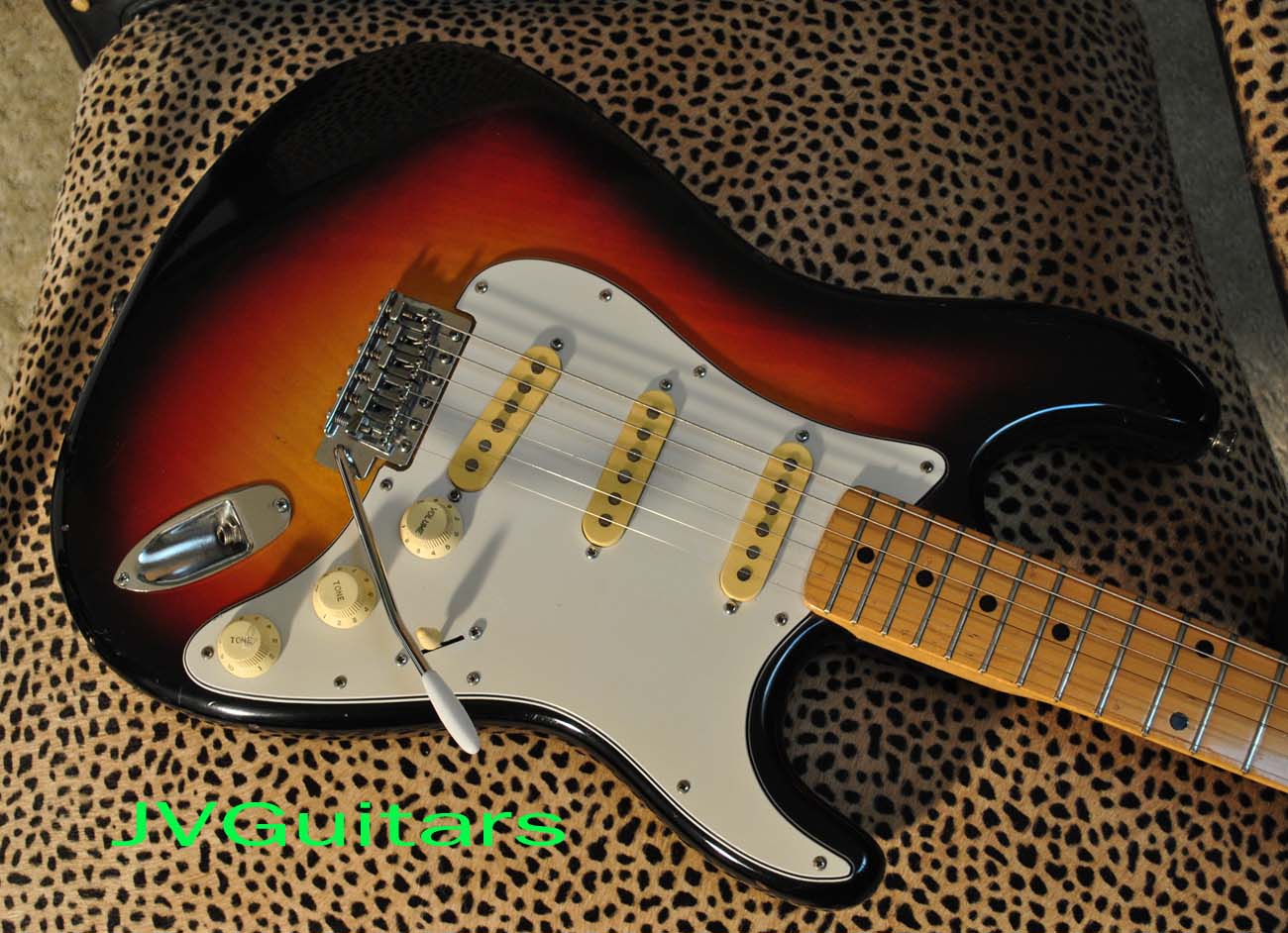 1972 Stratocaster Vintage Reissue Stratocaster This is a cool RARE made in Japan by FujiGen Gakki same as Ibanez - Greco Factory Strat labled CIMAR WoW... not closet classic but warm Patina Real Vint

Here we have I can honestly describe as an all-round KILLER vintage 72 RI Strat. This example is by the expert luthiers at Japan's highlty respected Fujigen factory. This classic looking strat was made in Japan in 1979 and is an exact copy of the coveted RARE 4-bolt 1972 strat which is out there but quite rare very few were made. This one is DEAD on with its accurate deep belly cut countour body and its well aged yet thin & still glossy with its well broken looks & feel is a warm classic strat all the way ..just have a good look..the wear & patina you can only get from being a real vintage guitar its over 33 years old now and having been great really played feel to it is not by accident. This beauty weights in at a svelt 7.8 lbs...the fast slim profile neck is a perfect 1-5/8" at the nut and is in absolute top form fully functioning and nice and straight with very good frets it plays excellently and is READY to ROCK, frets & finish are really beautiful. Sweet chimey strat tone good sounding electronics as good or better then Vintage Tokai's and the Old Greco's and I love those and hold high respect for the great FugiGen Gakki luthiers electronics even the real Fender for that matter this old FugiGen Gakki. This Cimar Strat exibits beautiful choice alder wood body with a masterfully applied classic dead on old Fender Sunburst finish I mean to say they really captured the old Fender finish as good as it gets here folks..this one has patina and some real honest wear, nicks in the finish ect and looks just like a real 72 Fender Strat now...its Maple neck is also choice grade wood its beautifuly figured birdseye maple with some flame to it seen at angles is uite stunning with its amber patina its all part of the total package here... realy nice sounding too with its old school 3-way switch..electronics are excelent, neck is nice & straight and very good frets...set up with EZ action.. This is a keeper folks with its classic strat big tone bell chime this one really nails it! Classic Vintage Japanese strat gotta love um.... Thanks for looking, let me know if your looking to buy a great vintage strat we have tham.... and this is a real good choice!