Click here to view full size image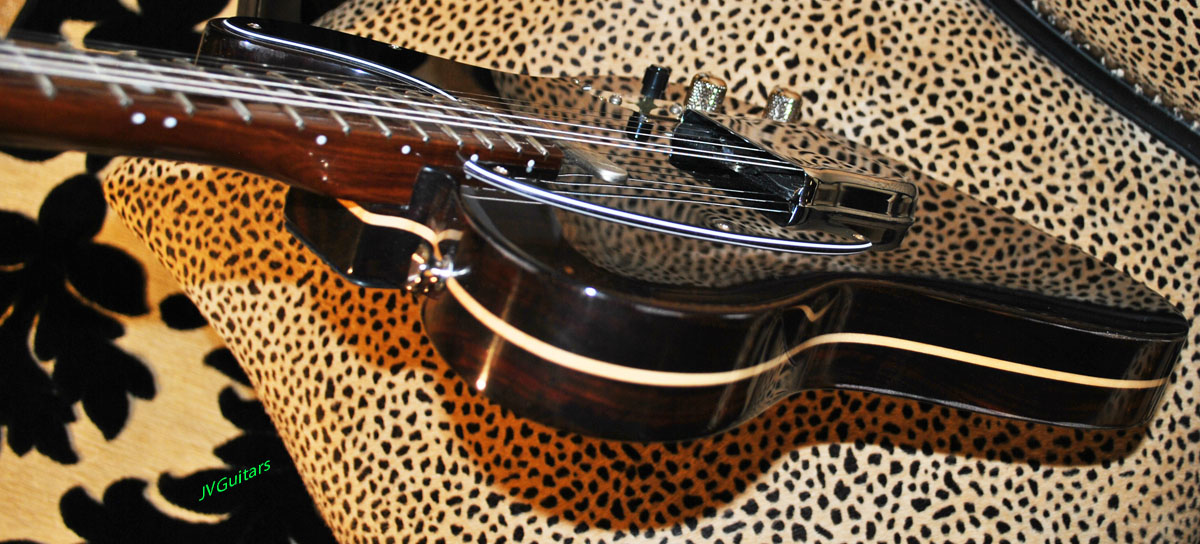 The JVG ALL ROSEWOOD Tele in the George Harrison 1969 Rooftop Concert Tradition and built here in California in our JVG Custom shop HAND Made in the U.S.A Reborn Old

JVG Custom Luthier built, some of the absolute best woods possible, the finest parts available some new some vintage, top workmanship and a lot of time & effort with lots of hand work and detail work... Neck is solid 1 piece Indian Rosewood w/ figured maple skunk stripe & maple headstock plug this is old school style much like 1969 style with 21 frets and trussrod adjustment at the heel, This neck is a classic medium semi-chunky V shape by popular request. The Rosewood bodys are known to be heavy ours has a beautifully book matched 2 piece front & back the center layer is 1/8" of figured maple we have internally tone chamber routed for weight relief to keep this guitar in a perfect weight range that may slightly vary from 8-9+ lbs but never the 12-13 pound bowling ball some of the originals were known to be as nobody wants to play those. If you prefer the bowlingball heavy weight body you can special order that feature pre order but we recommend the chambered body even the big "F" does chamber these days to meet demand for lighter guitars. More info to come see for now inquire if interested, this guitar a labor of love. In memory of George Harrison and the Beatles. Custom Luthier Hand build All Rosewood Tele " Old School style " Lieke Leo's back in the day! We use NOS REAL vintage old school tone capacitors just the same as back in 1969 along with all us CTS pots and switchcraft electronics. Our base model comes loaded with excellent true vintage sounding Japanese made Gotoh pickups we call them Vintage Voiced and have called them that for years ( because they are great and sound just like Vintage Fender pickups ) not to be mistaken for the cheap wilkinson pickups that recently adopted that same name we do not use wilkinson products... Gotoh's were also used by the Japanese company Tokai known for there great realistic tone used Gotoh back in the 80's ... I love the tone so now I use them as my GO-TO pickups and they sound friggin AWESOME. We have many pickup options all are the best of the best available today please ask about options but this baby is fully loaded and it Rocks the Vintage Tele TONE! Different pickup configurations are available by request at additional costs depending on what is chosen.At the time of your order allow 2-4 weeks completion time depending on how busy we are at the time we will fully assemble- test run - detail and finish buff pre shipping..remember its not new its REBORN OLD!