Click here to view full size image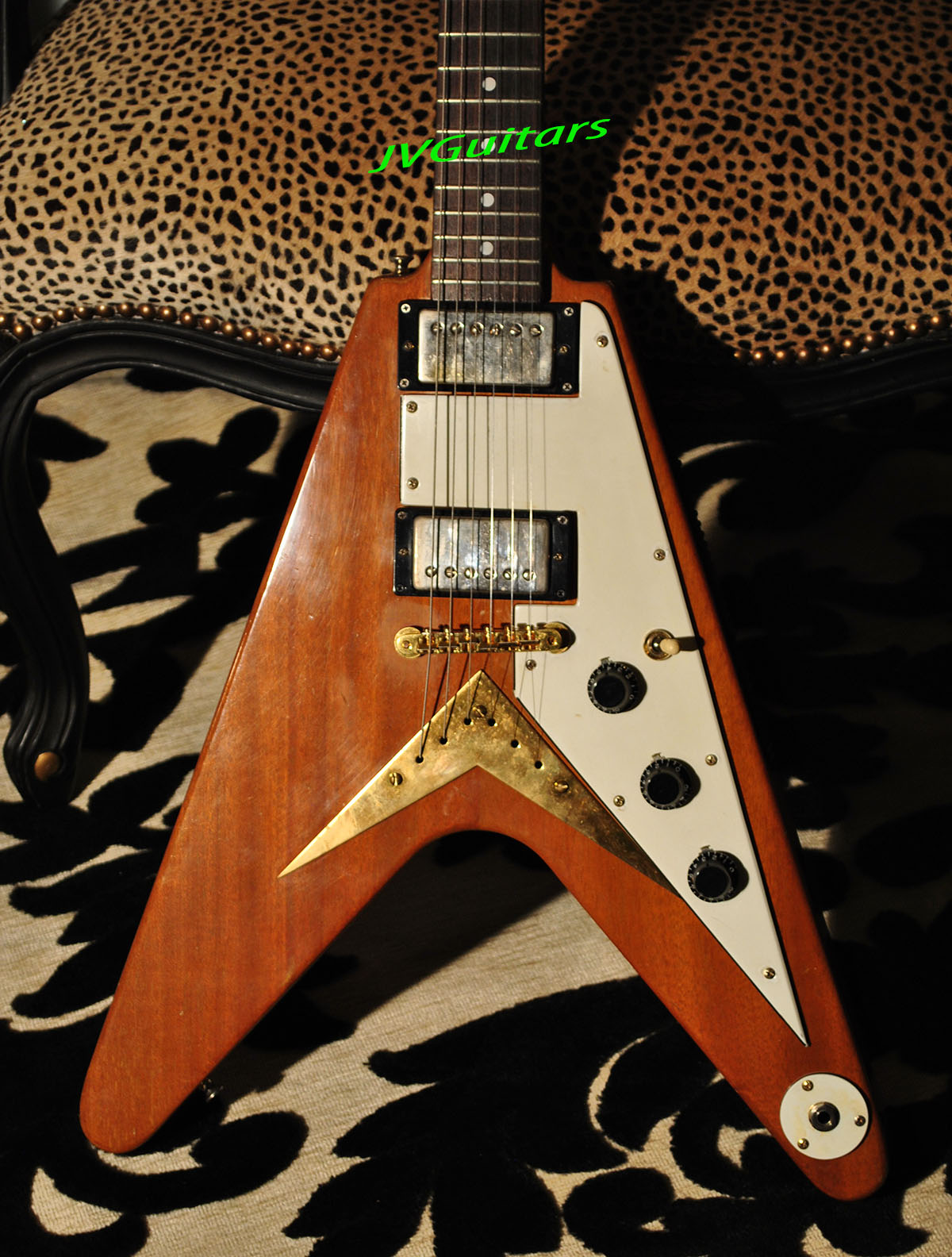 1983 Tokai Flying V Replica of Gibsons FAMOUS 1958 Korina V this example is Vintage made in Japan and is MEGA RARE folks and they don't come up often for sale here is YOUR Chance this is about THE BES

1983 Tokai Korina V Replica...Mega Rare WoW! we have had just 3 of these in the last 25 years.... highly collectible and the best playing accurate to 1958 specs Flying you will ever find thats including Gibson Historic and Hamer Vector's we have had them all and this guitar is AMAZING its scary good... I may have to keep this one Just in!...Here we have a REAL RARE VINTAGE TOKAI Japanese Hand Crafted Series 1983 Tokai 1958 Flying V Replica *** Featuring built with solid old growth AAA Honduran Mahogany Body & Neck *** WoW! This baby is a Feather weight at just 7.3 lbs ***This V is as SWEEET as it Sounds THIS GUITAR IS ABSOLUTELY KILLER ! RATED in EXCELLENT overall Condition, Unbelievable SUSTAIN ! Check out the quality of construction....its just like a real 1958 Korina Style Gibson Flying V UNBELIEVABLE amount of "Attention to Detail" into this Flying V!! --Pics say it all !! Brazilian Rosewood Fingerboard and absolutely Top Notch electronics-PHAT Frets !! This example has the 50's raw guttsy Tone BIG TIME. She has a few minor nicks and scratches here and there as it is a VINTAGE GUITAR of 30+ years now, (See Pics) This is a clean and solid vintage guitar in EXCELLENT original condition** Serious ROCK and ROLL MACHINE !! Come's with a beatbut fully functional Gibson HSC. Need I say how RARE these are, when was the last time you have seen another? Just in folks ask if serious about owning this beautiful vintage instrument.