Click here to view full size image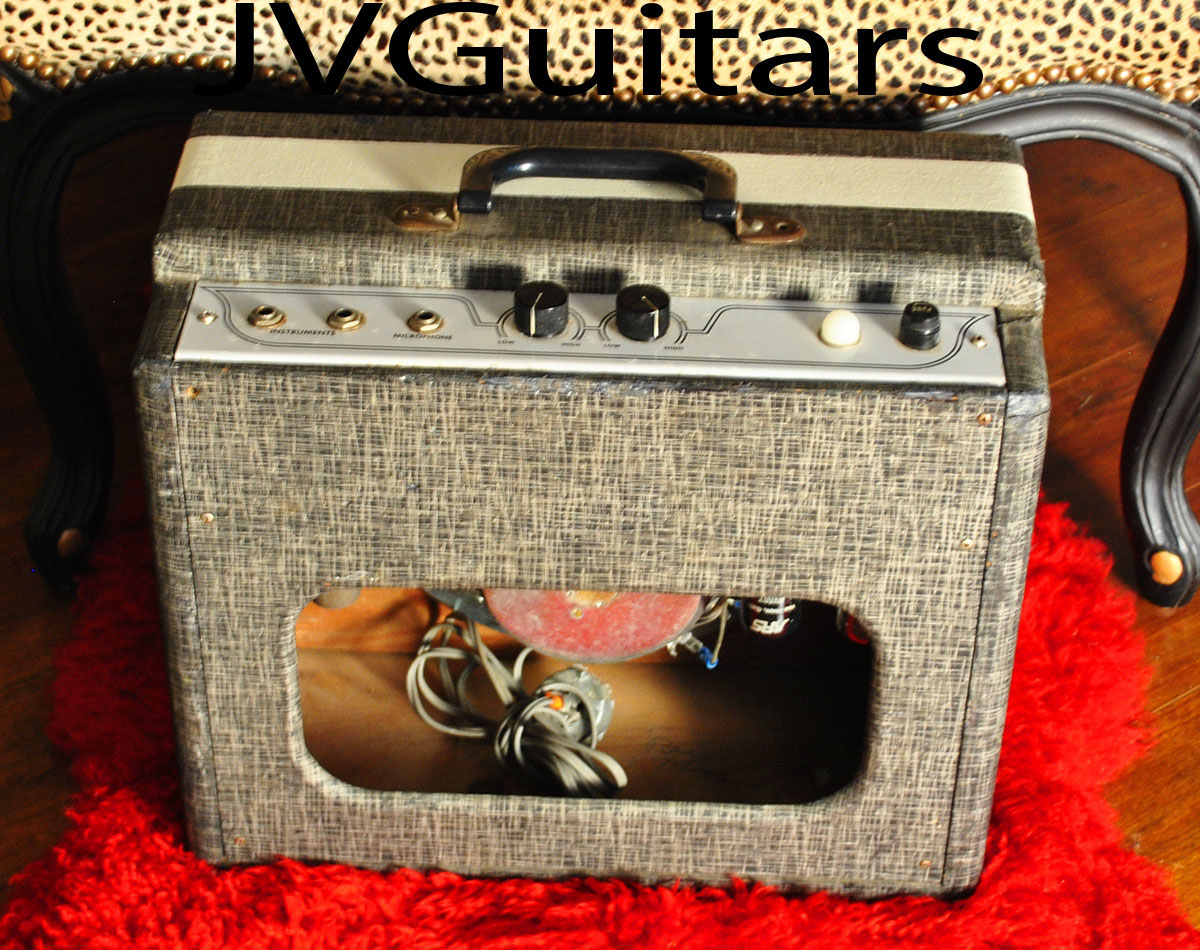 1959 Supro Spectator 1614 B. Vintage TUBE AMP this is the little brother to the famous 1624T this is the 1614b 10 SOLD OUT Check our other Vintage Supros

Sorry SOLD OUT: WoW... just in check this cool amp out. Here we have a very cool vintage Supro Spectator 1614 B Electric Guitar Tube Amp This little gem works absolutely great, it has nice clean sound at lower volumes and gets very late 1950's authentic rock tones along with some nice compression big time lead crunch at higher volume room to dial in exactly the tone you want it sounds absolutely amazing with a Delay I used my our( 3 ) Echoplex units this time was our green box tube echoplex ... and a Strat wow really talk about some kinda fun, No noise at all really quiet other than when you strike the string, she checks out strong no loose tube sockets. It's sound is classic SUPRO very formidable Think early Zep tone late 50's with its 10" speaker it is a surprisingly big sound from its speaker but these amps really comes alive when its miked This classic combo is made in USA by VALCO and has basically the same tube compliment as the comparable aged tweed champ at a fraction of what they run you now this is a bargain, 12ax7/6V6/5Y3. All true Point to point wiring, basically Supro's take on the tweed Princeton. This is an AWESOME sounding Amp and its excellent for recording and can be micked for a huge sustaining tone it gets that classic rock sound. These are sleepers that are an insiders secrete to true vintage tone at a fraction of its big brother the 1624t. This is a 55 year old vintage amp. Oh ya I forgot to mention it's very cool looking too. Great little amp! Just in.......Pics soon to come! Vintage amps are fragile, many dealers will not even ship them any more. We do our best to super pack our amps for the journey ahead of course once the amp is out of our hands and in the hands of the shipper the liability responsibility shifts to the shipping carrier and this is why we super pack our amps and fully insure them so should the unlikely happen the amp is insured and the your fully covered should something negligible happen perusing a claim with the shipper is the responsibility of the buyer.