Click here to view full size image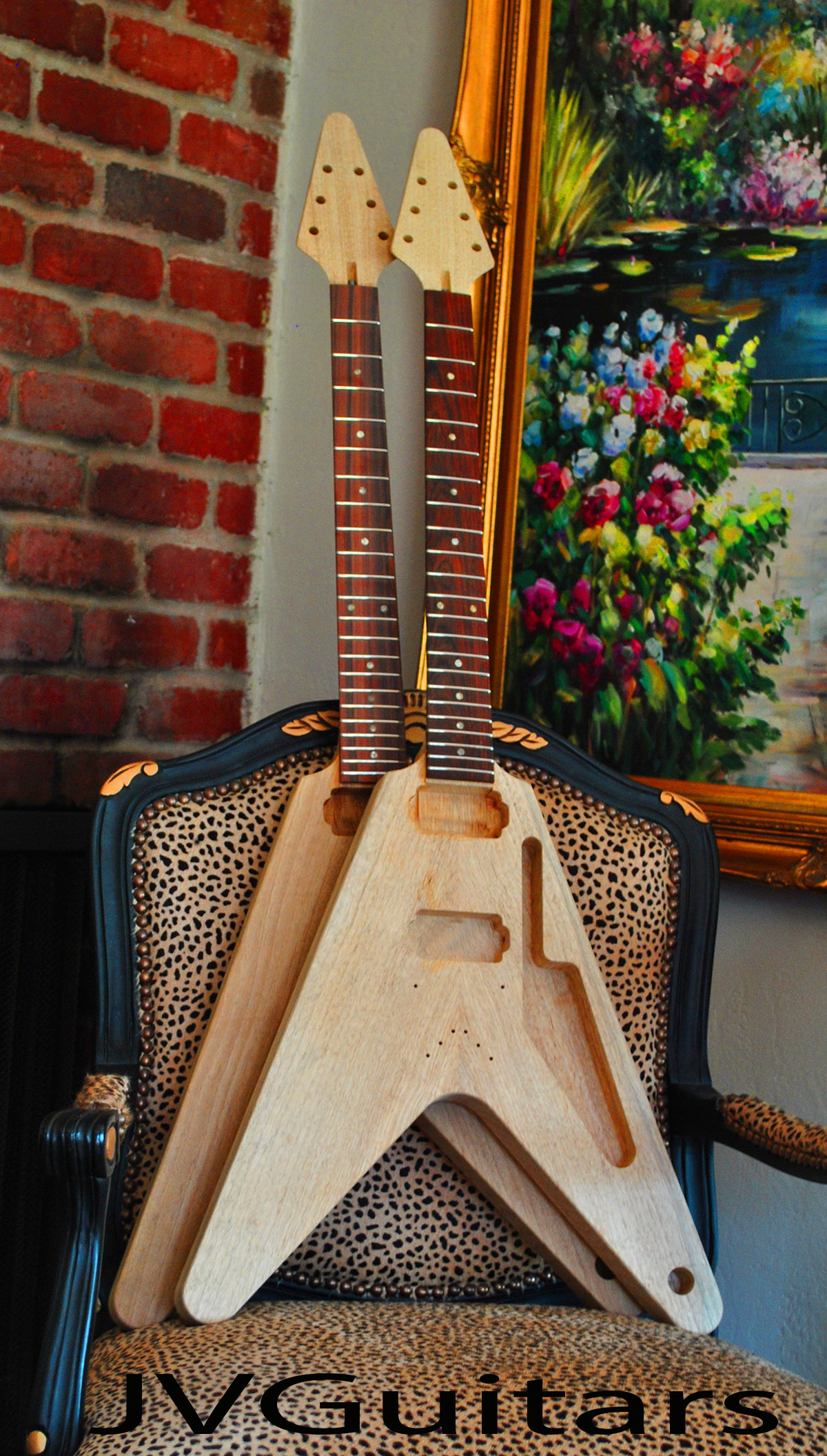 58 Korina Flying V This is a RARE JVG-Luthier built all SOLID KORINA - African Limba wood unfinished custom guitar PREVIEW them WoW!

UPDATE:OK Our last Vs sold out quickly Folks so here is your chance to get one custom built without the long wait can be white guard or black guard style all gold hardware comes stock. This is getting exciting now as these are really taking shape now, I just set the necks yesterday on these and today I'm installing the nuts and prep for the finish paint shop work and so on. Just completed most all of the woodwork now just a few bits and ends as they say, These beauties are both made of the African wood " the African name for this wood is Limba" its Body & neck are 100% ALL Solid Limba which is also perhaps more famously known as "Korina" These are the Old School type with the abr-1 bridge V's, made with precision pride & close attention to tolerance workmanship,the top of the necks are also exotic woods used on the Fingerboards they are from South America gorgeous and beautifully grained rosewood these have been freshly milled and not exposed but a week so when finished and oiled and polished - burnished they will have darkened considerably revealing a rich exotic look,I used 40 year old stash of Pearloid inlays for these fingerboards they have nicely aged now you simply must see up close!... this makes for an exotic pairing and overall richness not found on most $ 5,000.00 Historic's. These Korina guitars are known for the PURE Resonance and Light weight and these are no exception both have a beautil sweet TAP-tone to them and are very light weight as these weigh in at about 4.4 pounds before parts... WoW!!!! Both of these JVG V's are just about to receive our custom mix fine Nitrocellulose instrument subtly aged Lacquer finish just same as the materials as the originals used back in the day that we will slightly aged - then fully burnished these will check in time just as the originals have Lacquer finish. Every part every screw every part and piece of hardware will be aged to have the realistic look and feel of an old friend a realistic vintage guitar well taken care of not over the top or road hard and put away wet looking but just right " Reborn Old"....built with top shelf US electronics and hardware and all parts and a precision set up ..... all coming very soon...please see pics of a previous build...optionally you can order now and we can build this to suit. more details & update progress info soon to come so please STAY TUNED ! email if interested jvguitars@gmail.com Thank you for your interest.