Click here to view full size image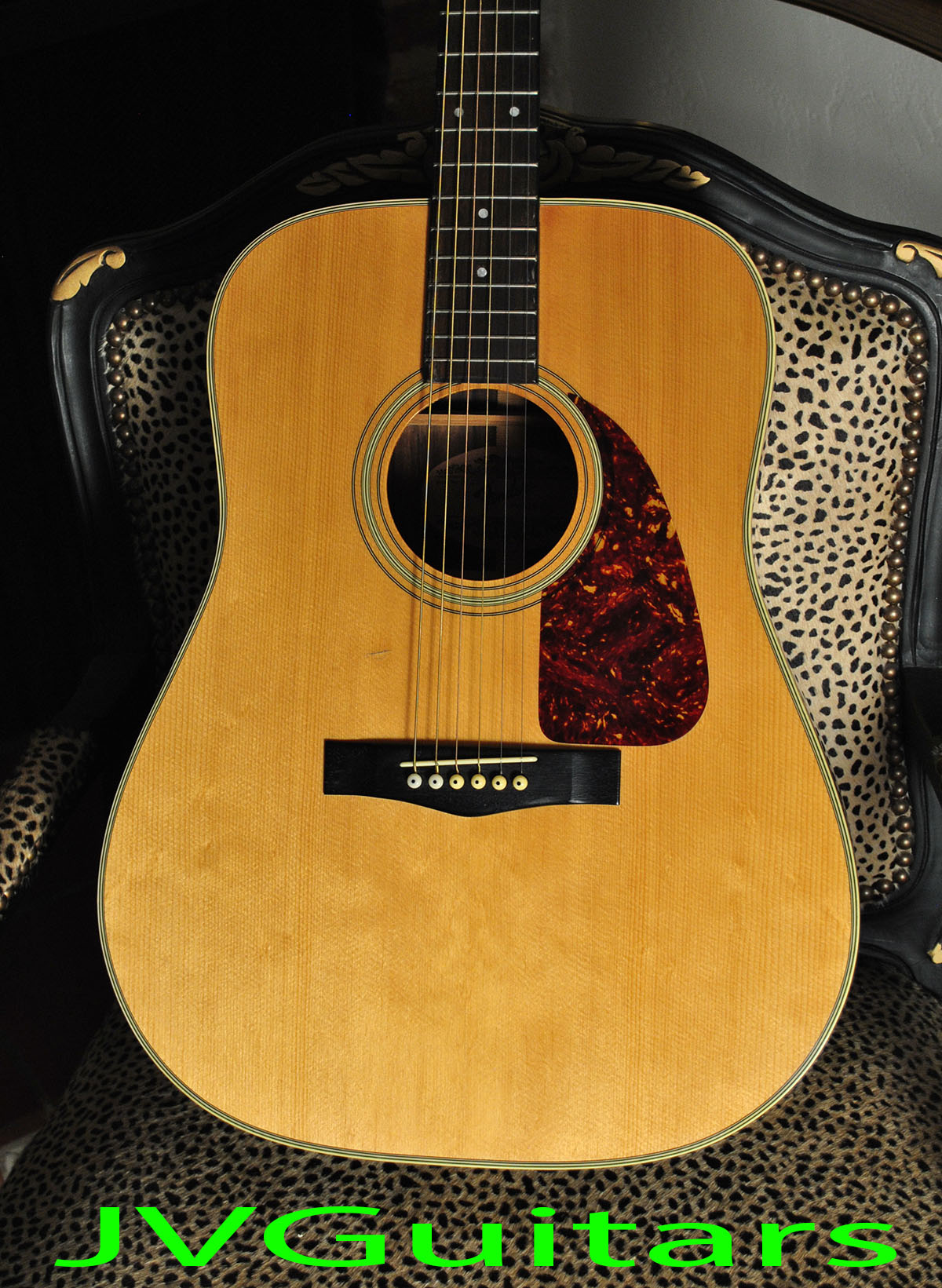 1974 FENDER F310 D-28 Martin copy made by FujiGen Gakki in Japan over 40 years ago CLEAN Machine WoW!...$ 499.00

We are very proud to present to you a pleasant surprise I must say from way back when folks this is prime Time beginning of that Golden Era of some of the GREATEST QUALITY Acoustic guitar that FENDER ever had the smarts to Import… that's right these are Japanese crafted beauty's . Built back in the day when Japan had the economy riding high while US guitar builders were getting bought out by business folks not guitar builders and US economy was in the tanker just a little brief history reminder… Fender & Gibson were under the gun to cut costs and re-structure if they wanted to stay alive and that they did…. CBS , Norlin…. And others cut back on the high quality woods they once enjoyed and relied upon the reputation the US had for making great guitars basically reputation from the late 50's – early 60's To about 68-69 or so…. Then quality went down no doubt…. Right then it was prime time for Japan Luthiers to strike and they did…they stepped up the quality from the funny toy grade guitars we saw here in the states back when I was a kid you could get a decent cute player electric guitar at the Pawn shop in about 1965 for about $69.00 in fact my dad bought my 1st electric guitar there for $69.00 … I loved it—it was a " KENT" and it sounded very good threw my Silvertone amp….. ..Kent is a offspring of Greco which is a factory behind making many brands buildby Fujigen Gekki…. Ok what this Fender beauty traces back to the great FujiGen Gakki in 1974 according to its serial number… making this beautifully preserved SOLID TOP Vintage Japanese guitars 40 years old a true vintage guitar in its own right. It was during the time when this guitar was built that the Japanese Luthiers set out to make some of the most righteous guitars period… fit – finish - workmanship & materials used are the good stuff folks….. This full size Dreadnought Acoustic guitar is a replica of the Martin designed D-28 known to be one of the finest most prolific designs the US Martin & co ever produced. This Fender F310 is of a High Quality example, The top is Solid Spruce straight grained with some nice figure and wow it has 40 years of patina to its color and finish and overall vintage appeal is Very strong… I was drawn to this example it sounds deep and rich and complex with an excellent volume And its highs ring threw when cording and finger picking , This guitars Back & sides are true to the masterful D-28 desigh …. High quality ROSEWOOD just beautifully grained see the pics for more detail Its absolutely beautiful back – sides are all east Indian Rosewood the fingerboard may be Brazilian Rosewood by its looksa very high grade non theless, the bridge appears to be Ebony wood….. the Bridge is nice and flat to its top which is also nice and straight, action is very good medium low and adjustable. The top has a couple of minor doinks see the pics not bad at all and certainly nothing remotely enough to detour from its vintage Gorgeous looks , no cracks anywhere found , bindings are very food, overall this guitar is an EXTREMLY CLEAN example aside from the afore mentioned . This guitar is in top Vintage used condition and is easily a 9//10 Fit and finish I suggest this was built but a high level Journeyman and can compete or compare with A nice vintage Yairi or Morris or Gibson or Martin for that matter….