Click here to view full size image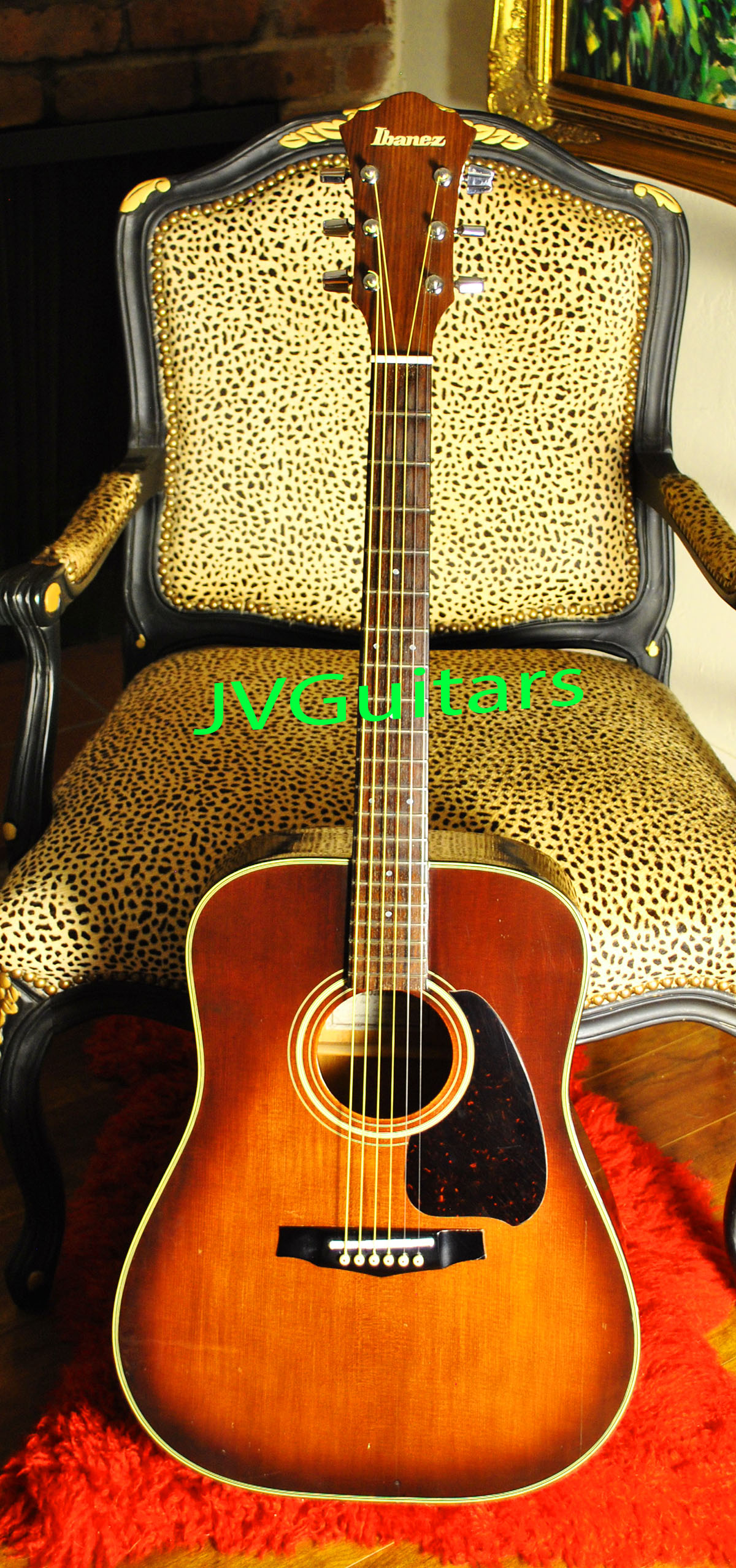 1980 IBANEZ V300 TV Srnburst Dreadnought Japanese Vintage Acoustic guitar.very nice quality great action and vintage tone... $395.00

This is a beautiful example of a 34 year old Japanese crafted Ibanez acoustic guitar that has the tone and the beauty, Love the Sunburst finish on this guitar that did a beautiful job with the thin Poly finish it stands up to the test of time and still shines like glass today just have a good look. It has a Spruce top… cant tell because of the sunburst if its solid or not but will assume its laminated…. Back – Sides & neck are all very nice grade Mahogany. Fit & finish as good as a $2000 guitar of today but this beauty has well aged woods now being well over 33 years old you could spend 3 x times the money and not get a better vintage guitar . The tone is surprisingly rich and with good volume it makes an excellent strumming or fingerpicking guitar. Its playing string action is very good making it a breeze to play and fun. The neck is real nice substantial and a medium profile with a soft V it feels like a vintage Guild from the 1960's ... nice job Ibanez!...Its in very good vintage condition too with several minor doinks to its top and a couple minor on the back and so on but overall its in very good condition both structurally & cosmetically and looks very good overall. The neck's frets are still good and fingerboard and frets have been lightly polished as has the entir guitar cleaned hydrated and polished and just look at the results, a new Martin bone nut has just been fit & installed as well as new Martin Marquis 80/20 Bronze light gauge strings, nicely setup to play very well like a much more expensive guitar now. Original tuners are doing a great job to this day some 34+ years later... Here is a very good Japanese Vintage Guitar of quality for a very good price too, She is not new or mint of course it has doinks and just a couple of fine hairline checks in its top I did not see at first its very hard to see but they are not wood cracks just fine hairlines to the finish and of no structural consequence what so ever. This guitar Plays and sounds very well and will make someone very happy its condition is JVG rated at easily 8.5/10 very good vintage, neck is straight without cracks fit and finish and workmanship are all in the excellent range. Great Japanese guitar for a great price… The 1980 Ibanez V300 TV, crafted in Japan over 33 years ago. This guitar plays GREAT!