Click here to view full size image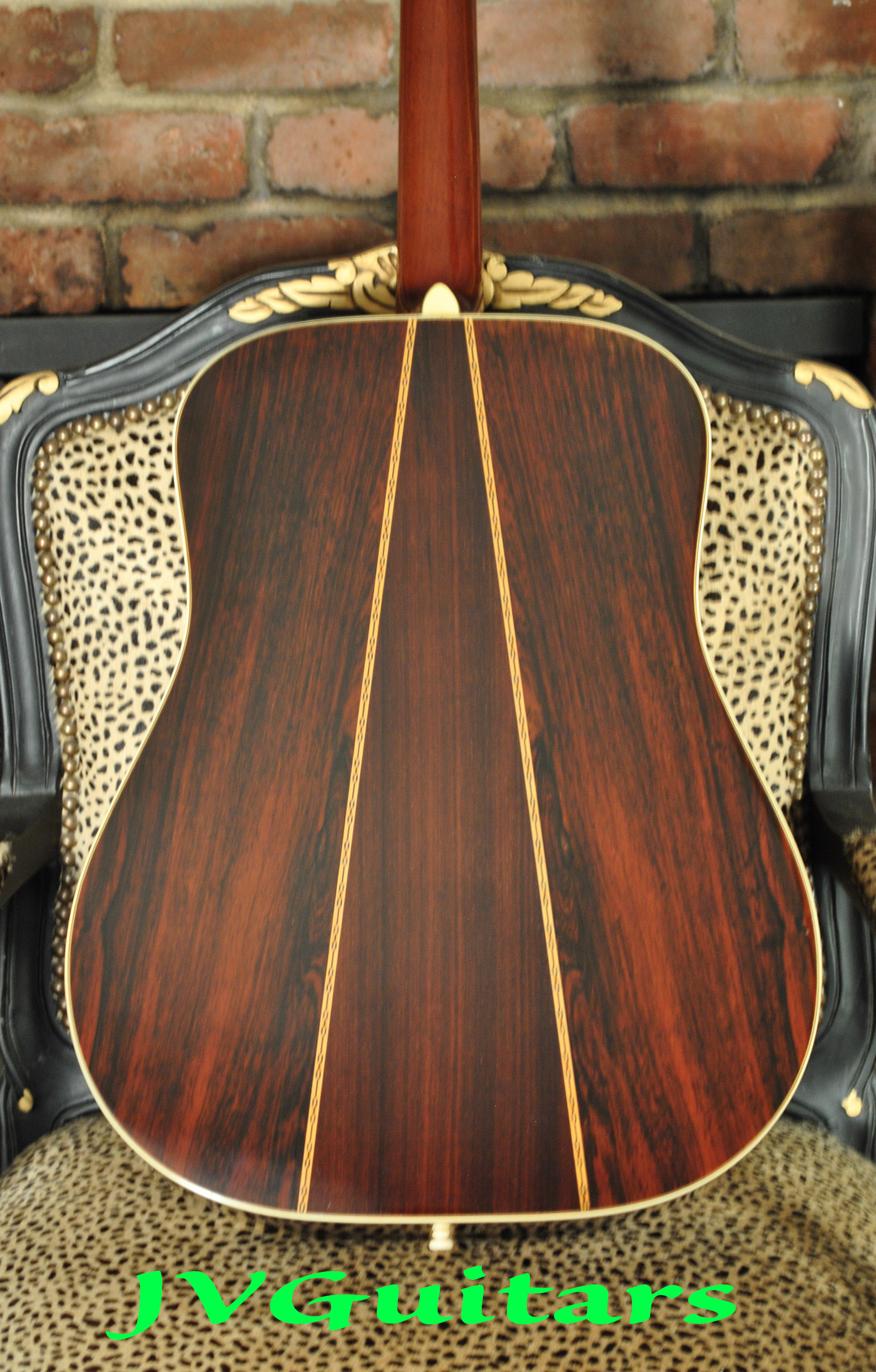 1976 Takamine F375s Exotic Brazilian Jacaranda Rosewood body acoustic guitar Hand built in Japan over 40 years ago in very good ++ Vintage condition

Here is s very nice 1976 Takamine F375s from the laswsuit era with the Headstock shape and logo style font replica of a Martin D-35 Exotic Brazilian rosewood guitar from 1962, An amazing likeness in looks obviously and she sounds sooooo sweet the 40+ years since she was built back in 1976 at the time of this build it has been said that Takamine had used aged woods of at least 20 years aging prior to its construction... this guitar has been extremely well cared for and it has barely a few scratches that will be sort of hard to find, the structural integrity of this guitar is excellent its neck set is excellent as is its action is low and as a result this guitar plays amazingly with no buzz smooth action and a pleasure to play. Frets have been lightly dressed and are nice too. Neck width is 1-11/16ths at the nut with a medium profile it feels like an old Martin to just perfect. It has been set up with a Martin bone nut & saddles set as well as new Martin 80/20 strings set she sings loud and sweet a pleasure to play with rich encouraging tone. This guitar is straight as can be with no cracks or separation on its body or neck with the only exception being its Solid Sitka Spruce top has 2 fine hairline cracks in the top and they do not go threw to the back side and are insignificant and have been properly sealed and buffed and you can not see them until the closest inspection, they are not progressing and have been stabilized professionally years ago. Other that the hairlines you cant see its near mint otherwise overall condition give this a very good to -excellent vintage used condition rating and a great choice fot the lover of these great exotic Brazilian Rosewood guitars, Japan does offer these Exotic Jacaranda Brazilian rosewood bodied guitars today but note they do not come with the OLD school Martin Headstocks or the old style Script logo they have the modern headstock Takamine design and logo oh ya a $4500-6000 price tag as well. You will find that this beautiful Rare guitar is a Bargain priced gem and should be played tonight as it is Ready to tour or Record tonight!