Click here to view full size image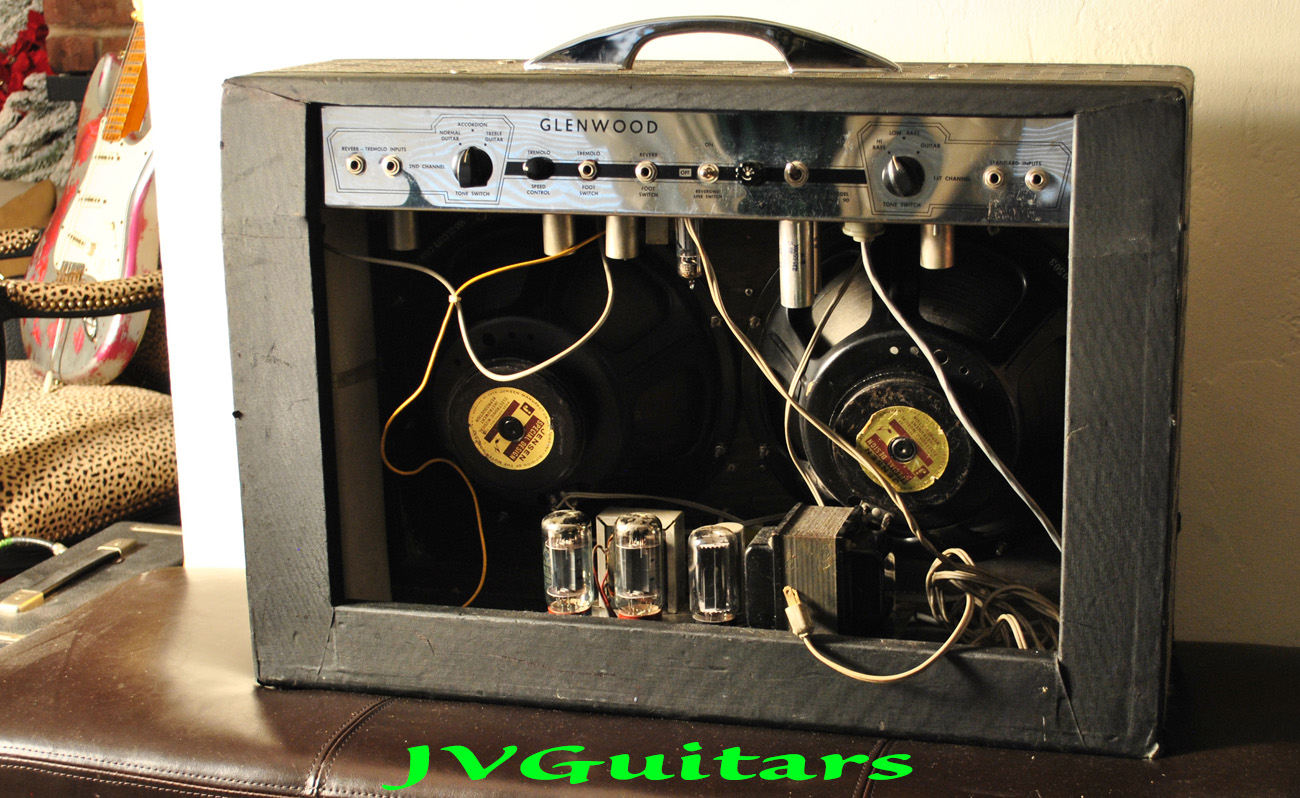 1965 National Glenwood model 90 2-12 Combo All TUBE Amp with Spring Reverb ALL Original tube hand wired point to point classic mid 60's Valco made in USA WoW SOLD OUT!

Sorry this amp is SOLD OUT: JVGuitars is proud to present to you a GREAT Vintage mid 1960's Classic National Tube Amp. This beauty is the Glenwood model 90 amplifier. Supro was also one of Valco's amplifier brands you may have heard of. The Valco company also made amplifiers for several other brands such as Danelectro, Montgomery Ward's Airline, National and Harmony. Similar to the other Valco amplifiers the National's are know to be the top shelf build amongst the Supro and Gretsch so on other lines. Highly collectable today and are coveted for the excellent true classic sounding tube break up tone these amps possess these Great amps were used by so many of the great recording artists from the ROCK gods of the 1960's and 1970's threw to today's recording artists, This AMP is a great example of the Glenwood 90 amp is in really very good overall condition very minimal considering age of this vintage genuine point to point hand wired amplifier. Internally this amplifier is all original and in in absolute excellent shape previously owned by an AMP Tech and has been very nicely taken care of all these 52 years. It has its two original and great sounding Jensen C12ps 12" speakers with the original cones that are in superb shape! This amplifier is a truly great sounding amplifier that reminds me of a vintage Fender amp with a nice sounding TUBE spring reverb and yet uniquely Valco era crunch that is sooooo…. KILLER!!! National Glenwood Model 90 Made in the mid 1960's this has 2-12" C-12-PS speakers, 2-6L6's, 5U4, 12AU7, 3-6EU7's and 12AX7. Two channels, tremolo and reverb and a 3-way switch for hi-bass, lo-bass and guitar for each channel's inputs. Another great sounding scarce amp and a very fine for clean Jazzy tones to country and great "bluesy" amp to play. Features a very nice transformer driven large pan reverb, rich deep tremolo these are known for, and a SWEET SOPT 25-30 watts of output – gutsy - great amp for medium sized clubs and this amp loves pedals to just dial in your sound, She's well suited for a variety of styles of music. Very good tone response and again that wonderful sweet spring reverb – just a fine all around vintage old school hand wired amp. And is soooo easy on the Eyes too just beautiful... Check this baby out! ask Joe at JVGuitars@gmail.com .