Click here to view full size image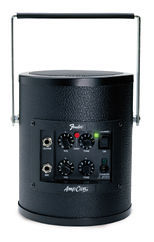 Fender Amp Can Travel Amp $199.00

Here is what Fender USA has to say about this little powerhouse of an amp. The ultimate in battery powered portable amplifiers, this is the amp for musicians on the go. The Amp Can (pat. pending) was created for the player looking for a small, rugged, high quality amp for acoustic guitar, voice, electric guitar, keyboard, etc.... Specs: 15w RMS, battery or AC powered, one Fender Special Design 6" speaker. Features: two fully independent channels (guitar and line- with distortion/mic), line/mic channel has 1/4" input that will accept an assortment of microphones, synths, drum machines, etc.... battery charger included. Weight: 13 lbs. Sizes: 8.75" H x 7.75" W x 6.75" D We are sorry - this item is temporarily unavailable. Please check back later! This message is from Fender.... You are in luck WE HAVE just ONE.....YOURS if you act now. These amps will supprise you with its Big sound WoW!...in as new condition and comes with a power supply-charger unit so you can plug in if you like.