Click here to view full size image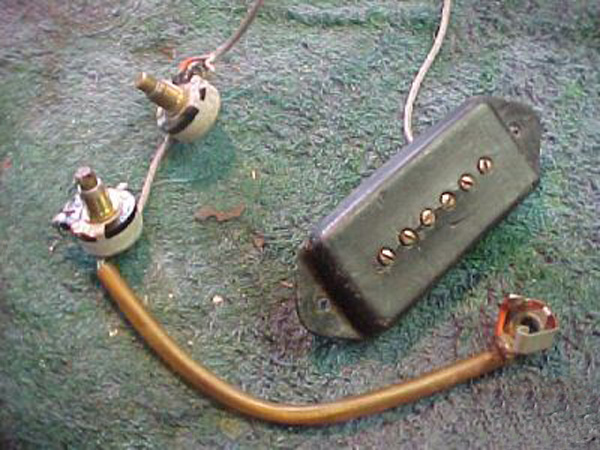 1950s Gibson Vintage P-90 with Pots & Jack $785.00

HERE IS THE PERFECT P-90 REPLACEMENT / UPGRADE FOR YOUR 54-60 Les Paul Jr 6153706 is the number on each 500k pot for this original 53? loom from an early 50's ES 125 Gibson ….this is THE REAL DEAL HERE FOLKS. This pickup works AWESOME+!!!, but the volume pot is scratchy and can make the pickup cut out altogether at times. So this It is the reason it was prematurely retired years ago. Notice that this pickup bottom plate has the regular mounting holes , as well as the diagonal corner holes as used on early 50's les pauls. The volume pot probably needs to be cleaned or rebuilt to make this wire harness function to it's best and complete capability. I will give that a try here soon when I get the chance. Solder joints ARE ALL ORIGINAL, you get the pickup & the pickup cover, the wiring harness as seen in picture, Both the volume and tone pots, as well as the Original input jack. Your chance to get a great deal on a real piece of Gibson History. Drop this in your Greco - Tokai - Burny - Orville - 70's vintage Les Paul Jr Replica and stand back! ROCK HISTORY Also drop in you Real Vintage Gibson Les Paul Jr for vintage Gibson REAL 50's TONE...