Click here to view full size image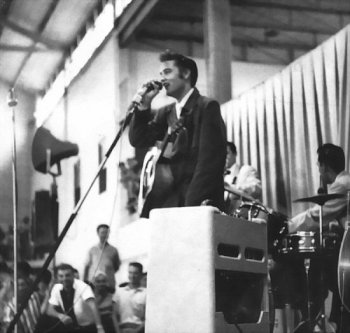 1956 Fender Real Vintage Bassman Tweed 4-10 Rare Vintage Amp The ULTIMATE Harp & Bluse Raw Boned Killer Holley GrailTone Machine...ASK!

The Ulitmate Vintage Strat or Tele and HARP AMP.... The Holly Grail as they say..this is the one that started it all this is TRUE LEO FENDER History from back in the 50's WoW!!!...The 1956 Fender Bassman amplifier was manufactured from 1955 to 1960. The 5E-6A model was made from 55-57 The controls have a Ground Switch, Fuse (3A), Power Switch, Standby Switch, Pilot Lamp, Presence, Bass, Treble, Volume, Volume, Normal In and Bright In. It was equipped with 4 x 10"/2 ohms (8 ohms each in parallel)" Jensen P10Q speakers, are the originals we have them and comes with , currently loaded with Vintage Celestian Green Backs that simply kill... 2 x 12AY7 and ½ 12AX7 preamp, 2 x 6L6G power tubes, 2 x 5U4GA rectifier, a ½ 12AX7 (split-load) phase inverter and produced 45 Raw Boned Old School RMS Watts output of nothing but Sweet Vintage Tube Tone, This one is still ROCKIN its original solid pine cabinet with a bit of Hippy finish work from the late 60's. Its Tweed Tolex has been long gone at least 43 years of its 56 years of existance. Now rockin an old Nitro Lacquer Hippy Refinhed cabinet to raw wood...I love it WoW1.. thats true history & patina all over this vintage beauty it really looks very cool as is with all the years of bars & smoke of all kinds - Drinks & cig and or doobie burns a real well agged vintage look to it now that can not be denied. I had its check out back when I first got it some 10 years ago... by the Bay area great Amp guy from the 60's & 70's Dan Torres...he found some bad filter caps that were making some snap crackel popsounds and she was gon over found a few loose solder joints but all is original under the hood and working as it should be SOUNDING AWESOME ... the original power cord was also shot so wehad a new grounded one installedat the same time...It weights in at about 47 lbs. This Thing ROCKS the House!!!! Ok these are listed in the Vintage guitar price guide at between $7500 - $13,500 in 2018 price guide and they generally conservitively price items as with vintage strats & amps like this they can go up from that point depending on condition and rareity.. anyway this is priced right for what you see right now... I may fully restore this with correct tweed and laquuer finish it properly and then age it and keep its funk factor alive that will rais our price ..but as of yet I have had the chance to get to that... stay tuned!!!! if interested in it as is catch me quick...thanks for your interest This amp recently has been professionaly gone over completly threw by the famous Local Amp Guru Dan Torres and given a 100% clean bill of health a clean up & tune up...a few caps replaced, biased, replacement nos tubes... more info keep an eye out for this one or email your questions and get the jump on it. ** This is a true screamin tone machine!