Click here to view full size image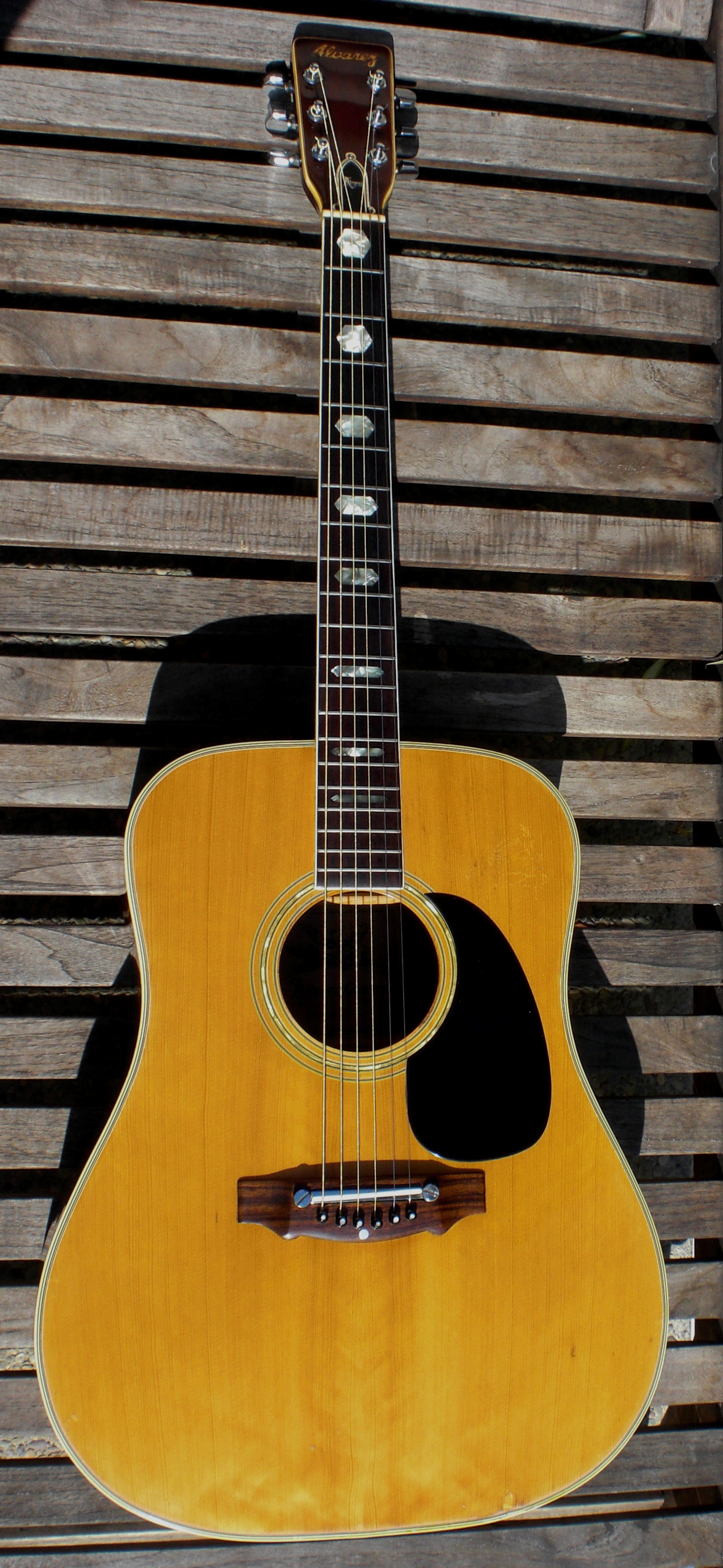 1969 Alvarez 5053 Exotic Wow she is 45 Years Old OLD Brazilian Rosewood Martin D-45 style

1969 Alvarez 5053 Acoustic Brazilian Jacaranda Rare Old Script Logo WoW Here we have one of the very fine Alvarez model#5053 a very High End Japanese crafted Martin D-45 Copy from this golden era. This example is an oldie but a goodie made in 1969 #5053..Bone nut & saddle for the preferable upgrade to a true bone nut & saddle and of course the strings are new Martin Marquis 80/20. This is a unique & exotic true Vintage Japanese version of the classic ornate Martin D-45 again this one was Crafted in Japan by one of the finest acoustic instrument builders from this time period Alvarez, This guitar is possibly even a bit more fancy than even the actual Martin D-45 with the intricate exotic woods inlayed wow see this examples 3-piece back simply gorgeous! The Martin D-45 version just has a 2-piece back in most cases...This example is an Alverez model #5053.,,see pic detail. Bound body(front w/b/w/b/w/b/w, back w/b/w/b),bound neck(white),bound peg head(w/b/w). See the Beautiful detailed Abalone inlay around the sound hole with its white mother of pearl fret markers. With an adjustable Brazilian Jacaranda Rosewood bridge with a bone saddle and sweet smelling exotic looking Rosewood fretboard that is simply stunning. Special truss rod cover that has the word Alvarez in gold lettering. Select Sitka AAA Spruce top, - awesome landscape figure sides are very figured exotic rosewood. Smells great. Wonderful exotic figuring please see the pics. for the back and sides Better pictures to come soon...The superbly detailed ornate Perfling between the woods on the back is just absolutely stunningly gorgeous,unbelievable craftsmanship at this price point!!. I've only seen one other like it. except or the other one we have!!!! yes we have another 1974 available 5053 in stock as well!....WoW! That's Lightning striking twice... Real difficult to find much info on these rare exotics. A truly Beautiful vintage Japanese acoustic guitar and quite the collectible instrument ...for the person wanting only the best at a fair price...not on sale for $6,000-8000 like the vintage Martin would be this one is a true bargain Vintage exotic at under $1500 unheard of.. WoW! What a great find. JVG Rated at a solid 8.5/10 very good original Vintage condition. This one is so very close to our Yairi 5060 we had its amazing...build quality like the Yairi without the signed label...and the price tag for hundreds less a truly great find.