Click here to view full size image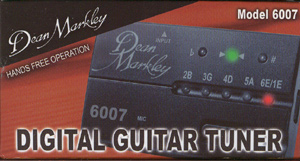 Dean Markley Digital Guitar Tuner Model 6007

Detailed Description Simple and easy to use, the model 6007 features hands free automatic tuning with 8 LED indicators to let you know where your pitch is. And the 6007 is accurate to +/- 1 cent. On the back of the tuner is a slot for inserting a pick, which allows the tuner to tilt so you can view it better while tuning. Small & lightweight, the 6007 Digital Guitar Tuner is packaged in an attractive gift box. Two AAA Batteries included.