Click here to view full size image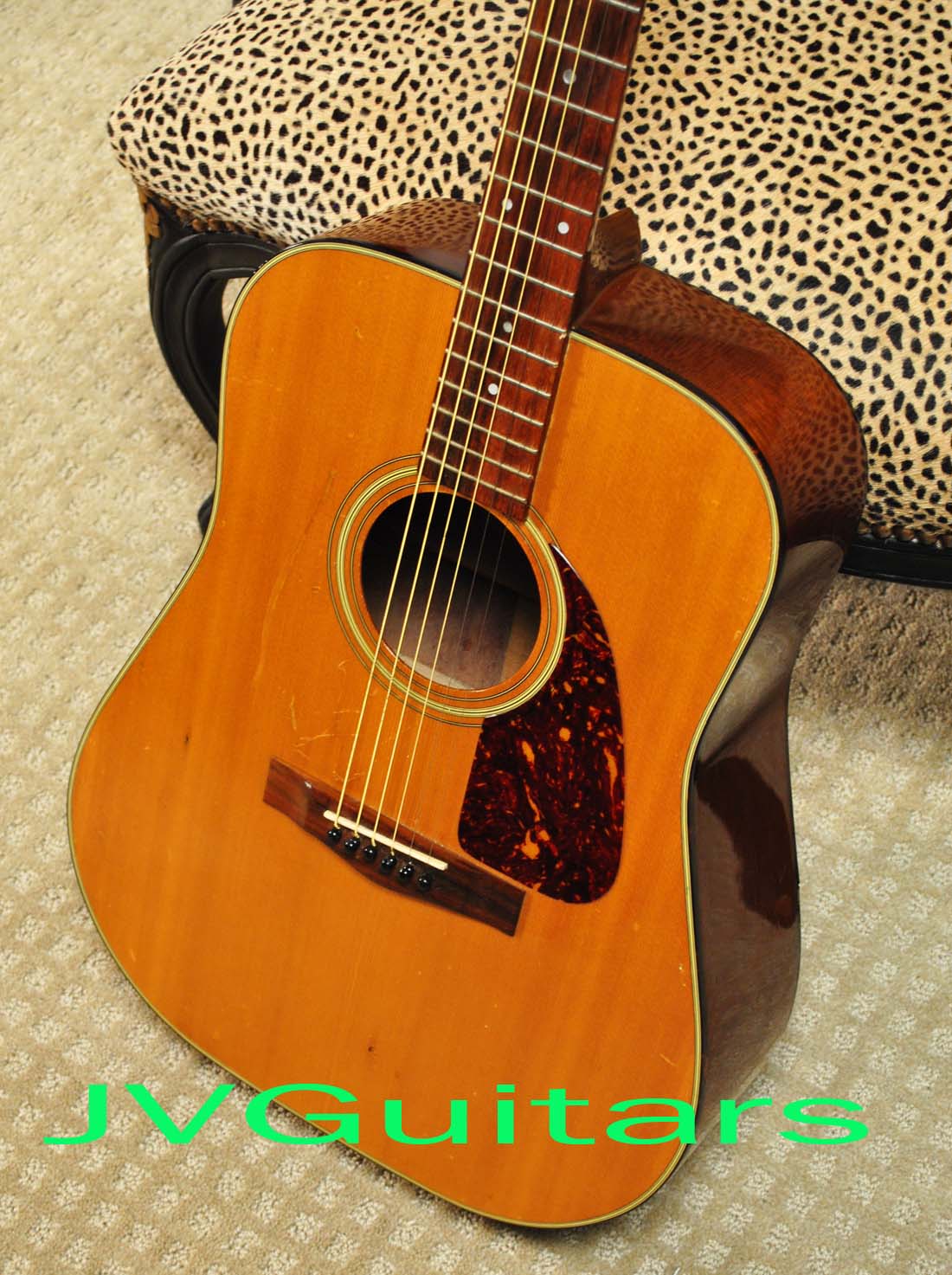 1987 Fender F-210 D-18-28 Martin style Acoustc made in Japan ..$ 329

Here we have a well made in Japan kinda rare to see these vintage Fender Japanese acoustics now days... interesting well built and is still beauty ..its all mahogany body & neck are very well constructed , offering good cross braced body ala D-18/28 seems to be awfully similar?..to my vintage Yamaha FG180 or 200 Nippon Gakki.....that is to say pretty darn nice!.. almost the same guitar but for the Fender's more stylistic headstock top shape that differs from the vintage Yamaha... this was clearly built for Fender as there import in those days Japan offered more competitive pricing to us manufactures to produce there line...this offering is really quite a nice guitar in its own right... so now its nicely aged well over the years..nice ring tone to it now, its very good overall condition, but sometime in its past history it received a doink to the binding on the back side lower bout a binding touch up repair has been done ...to the back lower bout and is about a foot long area -replaced ..its on the back bottom like I said so its really out of sight and is out of mind the remainder of bindings are otherwise 100% very nice beautiful actually nice looking tortious style..the rest the body has a few nicks or scars not to bad looking though a real vintage Vibe to it with no major cracks or warpage the bridge & top are tight and flat so its a very sound playing instrument, 1 changed tuner. The minor abraiions had been lacquer filled to preserve the original finish integrity ..we just built up low spots with matching lacquer to level off to prevent further degradation pealing or chipping those areas have been french polished built up and then excess has been removed elsewhere leaving only the low spots filled then we polished to gloss and well it looks ... pretty darn GOOD now.. she's preserved & fully ready for another 30 years of play... this example has a NICE NECK and she plays great....Worth preserving?...I think so See pics please... This guitar has no abrasions wood cracks or issues at all just a vintage guitar thats surprisingly such a fine player...action is good not too high at all and it still has room to lower the saddle or nut even more you so the neck set is very good for many years no worries..its a nice sounding & playing 25 years old vintage Japanese guitar...and is overall a nice looking vintage example..stays in tune nicely and is a joy to play... nice vintage Japanese guitar this guitar is JVG Rated: 8.5/10 very good used guitar as described ...still after 25 years it looks & plays good. Interested in this beauty let me know..Thanks for looking, Joe JVGuitars@gmail.com Pics soon to come stay tuned!