Click here to view full size image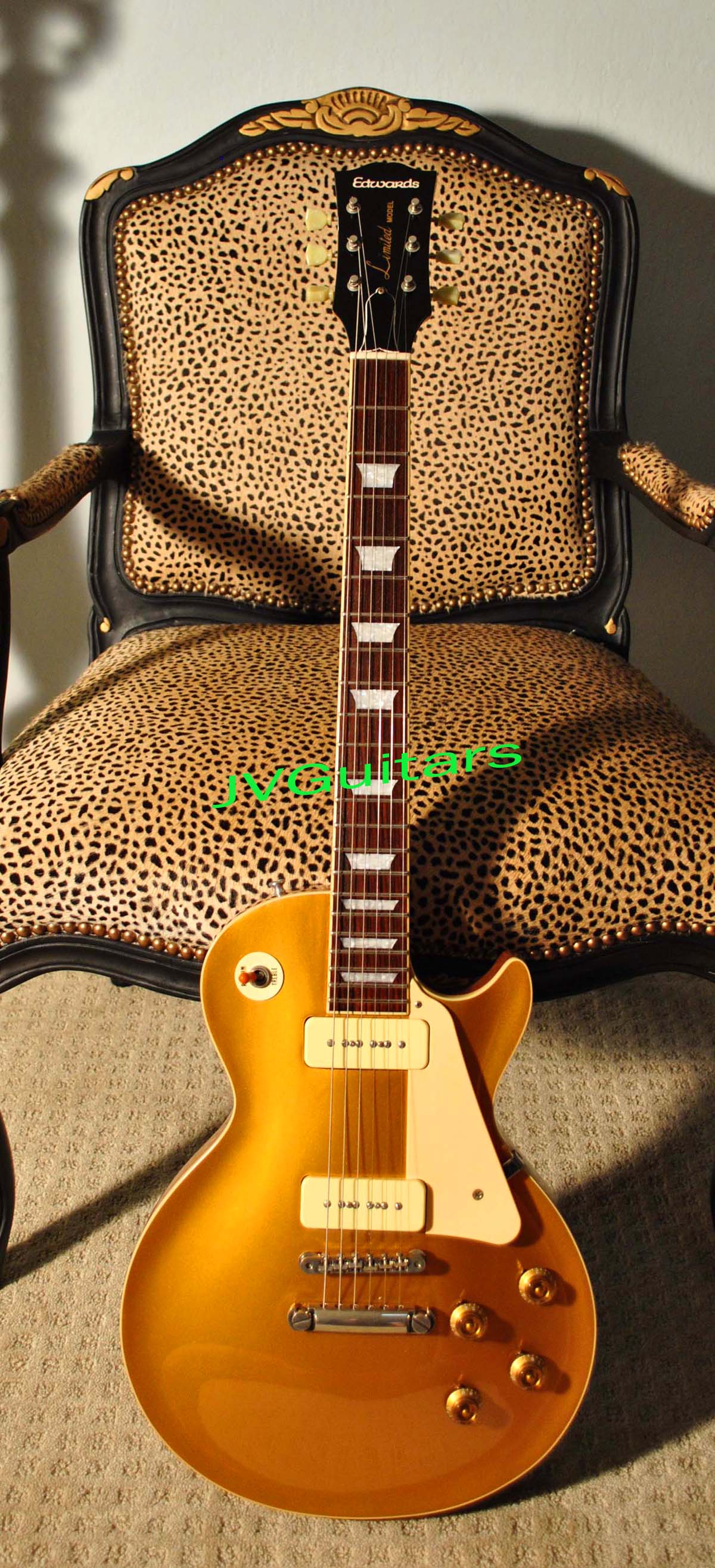 EDWARDS 1956 Les Paul Deluxe Reissue Gold Top Duncan P-90 pickups...Japanese Crafted amazing build quality Beautiful WOOD Professional Level perfect Player... sooooo CLEAN!.... $orry this SOLD OUT!

Sorry this has SOLD OUT: Here we have a simply SUPERB find WoW! this guitar ROCKS and is the one thats RARE to find Limited Eddition.... Made by ESP in Japan (Edwards) This is a very high Pro level quality Replica of the famous 1956 Les Paul Gold Top. This is a rare Law Suit Gibson Replica – exact in detail not made for export but was made for the high-end Japan buyer the Limited eddition. It is hand-built model when you see it up close & in person you will clearly see its a VERY HIGH QUALITY guitar. This is one of several High End Edwards built Guitars we have had and like the others this too is a very accurate Replica too custom shop type built ... it is needless to say we were then and now more than ever VERY IMPRESSED with This Edwards high end built guitars. The Weight of this guitar is: 8.9 lbs. The Scale Length: 24.75 in. The Width of nut: 1 11/16 inch This BABY is truly a RARE-FIND and this one is rated at 9.95/10 near MINT CONDITION WoW!- Virtualy NEW= Blue Book of Electric Guitars Condition Rating 100% Original, NO problems or issues... This is an ACCURATE 56 GOLD TOP and its finish is exact and correct color Bullion Gold Suspended Powder Finish, Yes the same Finish as the Original 1956 Gibson ...so when this baby wears in and begins to age LOOK_OUT! It does have a Hardrock Maple Bookmatched Top. Its Classic 2-Piece Bookmatched high grade Mahogany Back is soo Comfortable, Its Accuratly-Contoured FAT C-shaped '56 Neck is also correct its 1-Piece and has very well-matched "wings." The Neck is fitted with a longer tenon joint and is Correct for 1956, Beautiful Gold Top Finish top is stated as thin nitro, virtually No fret wear at all on this example it arrow straight neck (Jumbo Frets, too!) All Original Vintage Gibson-style "deluxe" kluson tuners keep the guitar in tune extremly well. Only Released in Japan, This High-End Model Never Exported! Very Resonant, Sweet Tone From USA made Seymour Duncan 2X SP-90 '56 Reissue P-90 Pickups & absolute Quiet Electronics Very high quality routing and unmatched craftsmanship... Actually better than many G!%$@n's dare I say. This is truly THE most Accurate Super High-end Japanese 56 Gold top we have EVER seen we are very proud to offer this jewel NO DISSAPOINTMENTS!!, EXPECT Incredible Sustain, Tone, and Playability with this one. Included with your purchase of this guitar is the the original owner's card and warranty! These guitars are truly Spectacular, Beautiful, Inspirational Instruments, and you can turn your friends' faces absolutly green with envy with such a great instrument, Any truly Accurate 1956 Gold Top Replica anywhere close to this guitar's playability + sound & accuricy if it had a Gibson logo on it you would have to pay well over $2,500.00+ for. This is a Professional grade guitar and is set up and 1000% READY TO ROCK! Get it while its here Accessories sold seperately, yes she's in stock today: ASK!...gr8bids@comcast.net .