Click here to view full size image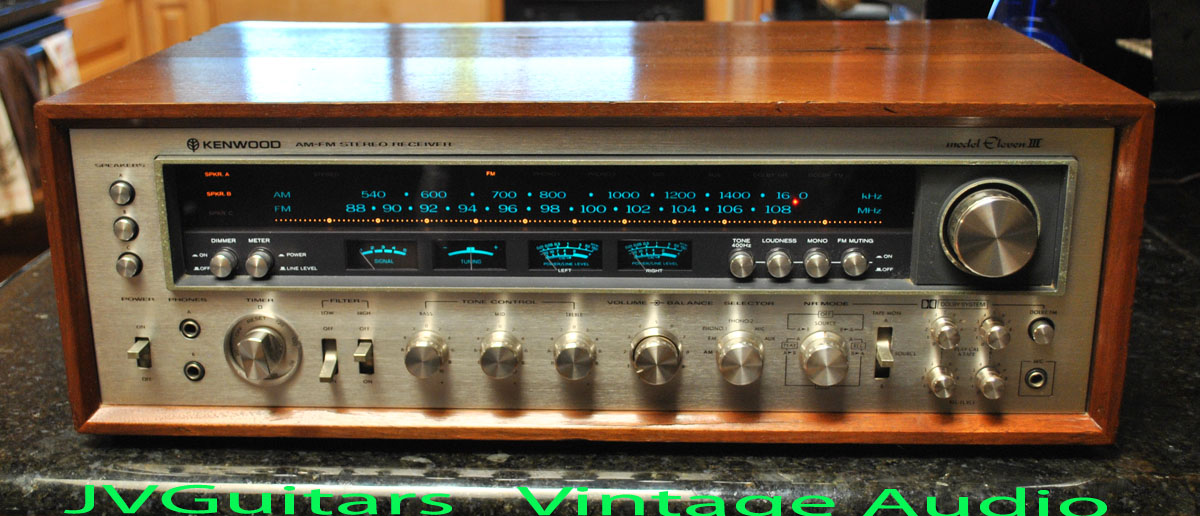 70s KENWOOD 11 III Monster Receiver 40+ years old excllent vintage condition fully professionally serviced ....$OLD OUT

This is the MONSTER 1970's Flagship for the great KENWOOD this is the ELEVEN III receiver.. This one came in all original in good sound condition all channels working well and speaker connections are x 3 sets of speakers all good, antenna, all good all face plate is nice and its lights did not function and it was sounding scratchy in the pots when changing volume - tone and so on ..just typical clean up issues from sitting un-played for some years.. so I took it to my pro Tek's shop to have it "tuned up" he calibrates the tuner, and cleans all contacts, changes caps if bad, and replaced with factory correct bulbs and it looks beautiful now all lit up at night quite an impressive looking unit. The cabinet has not been restored and does not look too bad at all really.. We can restore it if buyer wants that service at additional or choose to easily touch it up your self but either now it sounds so clean and crisp and is MEGA Powerful it sounded like The Doobie Brothers were jamming in my living room when I crank it up.. I'm not kidding it sounds absolutely thunderous now the back so loud and clear this thing rocks the house literally... Why you would need such power I don't know ...ah yes I do because you love the way it sounds... very little harmonic distortion with the unit as well...so your amplifying a cleaner signal and as a result it sounds killer... OK I will get the specs posted asap but its like 125 watts RMS Per Channel if I remember correctly...